Webinar Spotlight: The Docketing Excellence Series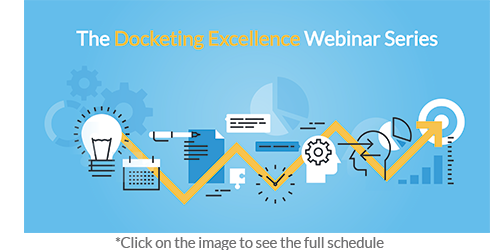 Docketing paralegals, managers, and patent attorneys all know that docketing is a critical function for any successful patent prosecution operation. If not handled properly, docketing can be an area of major risk for law firms and corporations. For this complimentary webinar series, we have pooled together docketing experts and managers from the Schwegman firm, Black Hills IP, and their respective clients to help educate on key docketing challenges and issues and share best practices on how to overcome them. The Docketing Excellence Webinar Series is a free biweekly webinar series that will feature a panel discussion and Q&A session.
Click below to register for the next presentation "Corporate IP Departments that Outsource Prosecution: Options and Best Practices for Docketing" on Wednesday, October 26 (1:00 PM CT). The presentation will include a 30 minute discussion followed by a Q&A session. The panelists for this discussion will include Ann McCrackin, President of Black Hills IP; Tom Marlow, President of Black Hills IP Renewals and former Director of Patents & IP for Fairchild Semiconductor; and Jaci Sprtel, Patent Analytics Specialists of Black Hills IP and former IP Counsel for Thomson Reuters.