Discover EU Registered Designs in Jan. 30 Webinar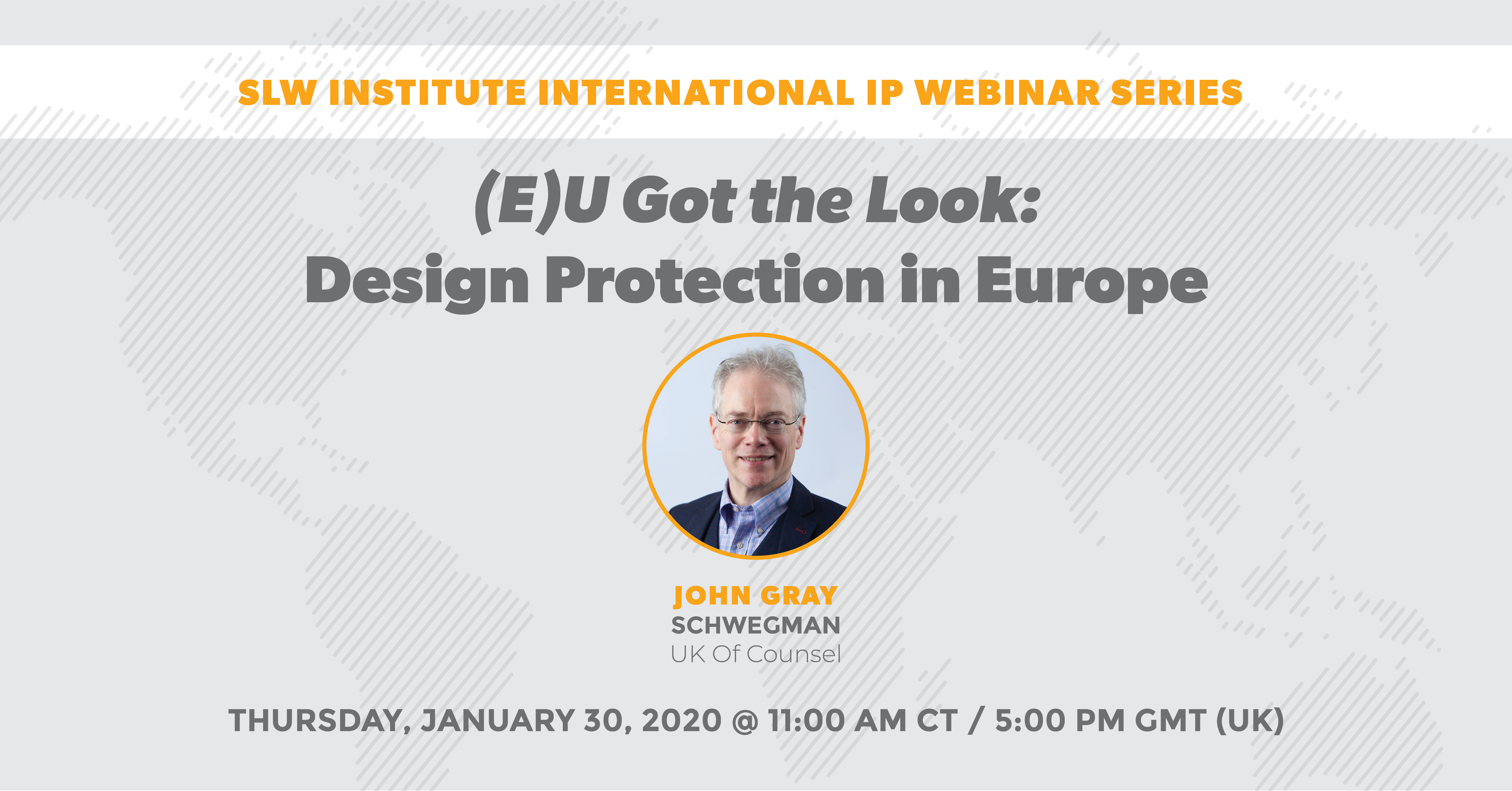 What are the features of EU registered designs? What is their scope of protection? And how do they compare with US practice? Gain practical knowledge about this topic in the upcoming webinar, "(E)U Got the Look: Design Protection in Europe". Presented by UK patent attorney John Gray, this is the second installment of the SLW Institute's International IP Webinar Series. This live presentation will take place on Thursday, January 30 at 11 a.m. Central.
During the webinar, John Gray will cover such topics as:
An overview of EU registered designs and UK registered designs
Some opportunities and hazards that may be experienced, for US design owners seeking protection in Europe.
A brief introduction to EU and UK un registered design right, which can provide protection in the absence of a registration.
John Gray is an experienced patent attorney accustomed to dealing with a wide range of technologies. After studying Electronics and Physics at the University of Edinburgh, he trained to be a patent attorney at a prestigious in-house department. This training took place primarily in the UK but also included time in the Netherlands and Silicon Valley. John moved into private practice in London in 1993, and then relocated to Glasgow, Scotland in 1997. Since 2017, John has been of counsel at Schwegman Lundberg & Woessner, P.A.
John believes in the Vital Spark ™ – the clear and complete communication of difficult ideas between inventors, their business managers and investors, and the patent examiners, lawyers and judges who rule upon them. His quick technical understanding, forensic attitude and eye for detail are applied in litigation support, patent drafting, patent prosecution, opposition and patent strategy generally. John has been awarded a Managing Intellectual Property "IP Star" award for 2014, 2015, 2016, 2017 and 2018.
The first installment of the International IP webinar series, entitled "Grant and Validation Process for EPO Patents," took place on November 14. It was presented by European patent attorney Bryn Williams and UK senior paralegal Karen McCartney. 
SLW Institute webinars are complimentary. Sign up today for the January 30 webinar, "(E)U Got the Look: Design Protection in Europe".
To register, click here.
Back to All News