Gain Insights About EP Validation in Nov. 14 Webinar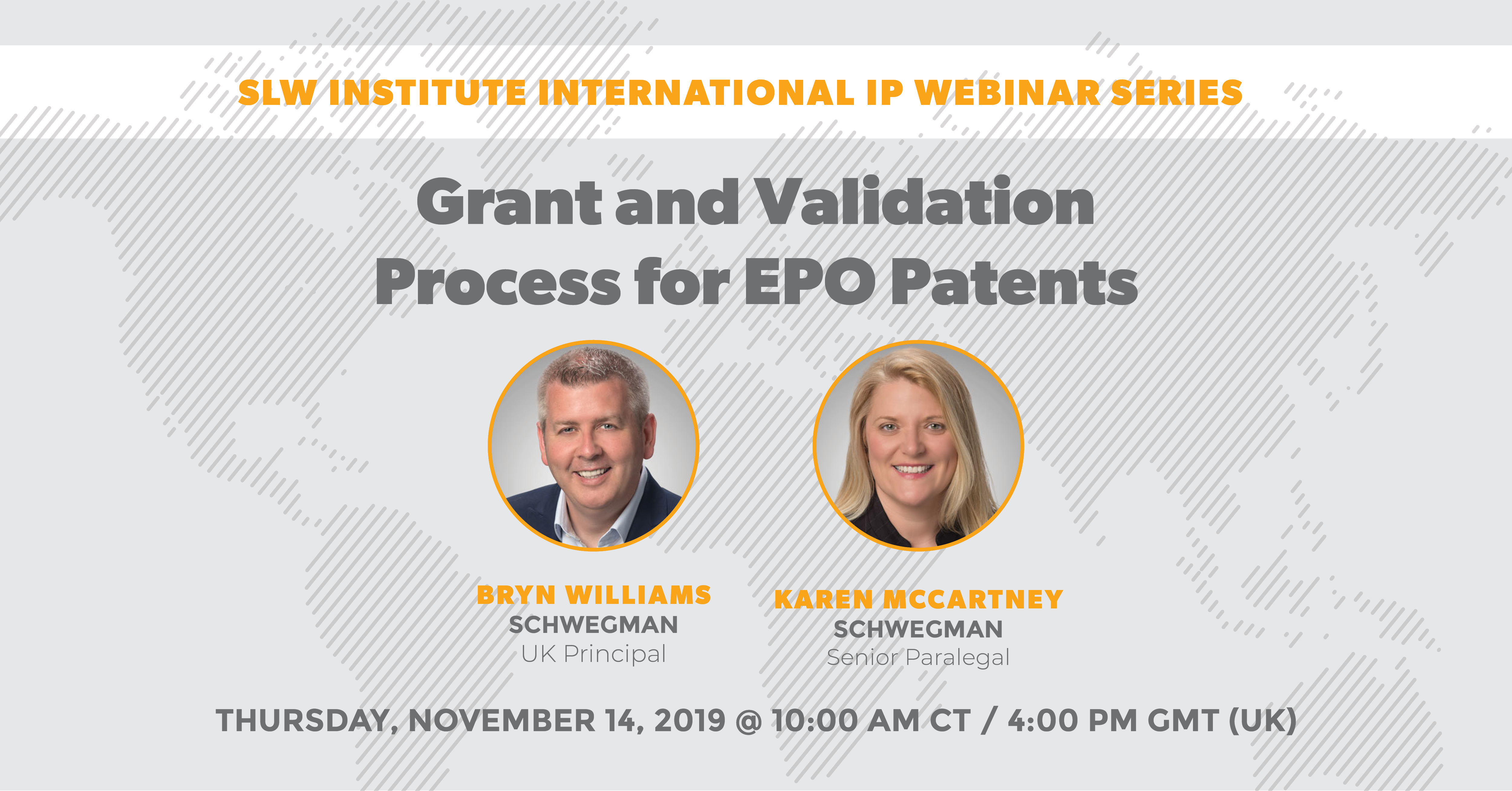 EP validation has a three-stage process, from acceptance of text, to grant, to validation. In the first episode of Schwegman's International IP webinar series, UK senior paralegal Karen McCartney and European patent attorney Bryn Williams provide practical advice how to navigate these important steps. The webinar, "Grant and Validation Process for EPO Patents", will take place on Thursday, November 14 at 10 a.m. Central. As part of their presentation, Karen and Bryn will cover recent developments regarding Rule 71.3. If you're involved in the EP validation process, you'll want to hear this insightful presentation.
Karen and Bryn have years of practical experience to draw on as they make their presentation:
Karen McCartney is the senior paralegal for the Schwegman UK office.  She is a qualified CIPA (Patent) and CITMA (Trademark) Administrator and has worked within the UK IP profession for 25 years gaining a wealth of formalities knowledge and experience. Karen is recognized across the UK profession in her field and has contributed to the build and development of multiple docketing systems. Karen is responsible for the Patent and Trademark paralegal and administration teams covering all aspects of IP prosecution before the European Patent Office and the United Kingdom Intellectual Property Office from filing through examination to grant.
Bryn Williams is a chartered and European patent attorney, a European trademark attorney and a European design attorney.  Based in the UK, Bryn has a bachelor's degree in mechanical engineering from the University of Glasgow and a master's degree in polymer science and engineering from the Technical University of Delft, in the Netherlands.  Bryn entered the patent profession in 2002 after working as a senior engineer in the food and tobacco industries, and subsequently as a commercialization manager at the University of Glasgow.
Bryn's practice is primarily mechanical engineering with clients in the FMCG, medical device and oil and gas sectors.  Bryn also has significant experience in successfully managing multijurisdictional patent litigation.
Click here to register for the webinar.
Back to All News