Learn More About the Differences Between US and EPO Practice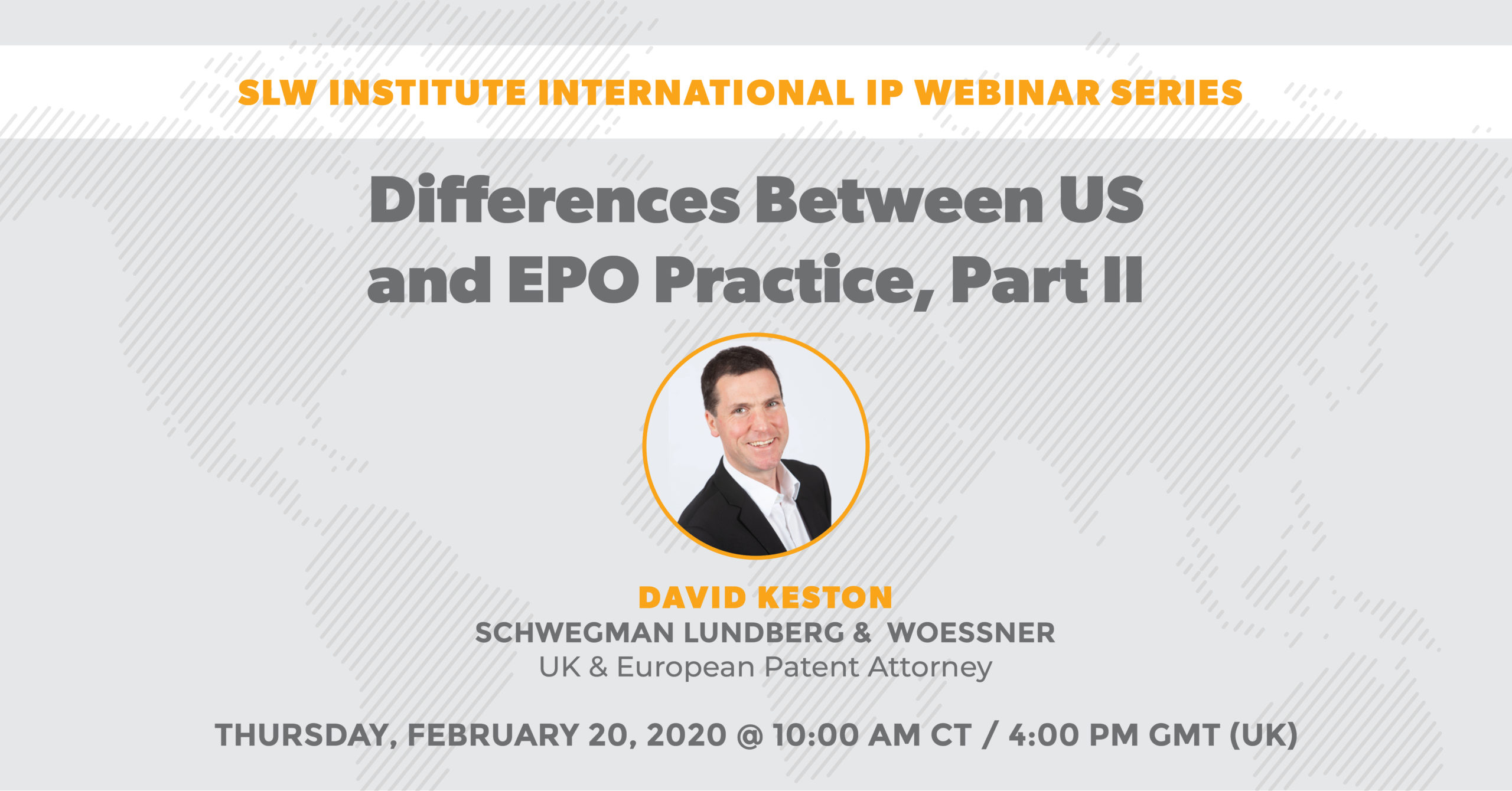 On Thursday, February 20 at 10 a.m. CT, Dr. David Keston will present the webinar, "Differences Between US and EPO Practice, Part II." David Keston is a UK Chartered Patent Attorney and European Patent Attorney in Schwegman's UK office. Even if you missed Part I, we invite you to join us for Part II.
David explains,
"Part I covered day-to-day issues one might see in prosecution of European Patent applications, noting those areas where the European practice leads to challenges not seen in US prosecution.

Part II will cover practice issues outside of prosecution, including formalities requirements peculiar to the EPO, aspects of European-only post-grant practice and the EPO approach to priority claiming.  Again the emphasis will be on explaining EPO patent practice while highlighting the differences over US practice where that difference has practical relevance to US patent professionals."
David Keston has a doctorate in Plasma Physics from the University of Glasgow for research into equal-mass plasmas. He has worked as an Examiner at the UK Patent Office, in-house with the legal functions at Siemens (UK) and Vodafone Group, and in tier 1 private practice patent attorney firms. 
Part I is now available on demand, on the SLW Institute. Schwegman's SLW Institute provides blog articles, webinars and an IP Playbook, to help viewers advance their IP knowledge. David Keston's webinars are part of the International IP webinar series. Previous webinars in this series include, "Grant and Validation Process for EPO Patents" and "(E)U Got the Look: Design Protection in Europe."
Also available on the SLW Institute are updates from Aaron Wininger's blog, China IP Law Update, and articles from Warren Woessner's blog, Patents4Life. Additionally, you can find on demand webinars from past webinar series.
Sign up today for "Differences Between US and EPO Practice, Part II." A live question-and-answer session will follow the presentation. Click here to register.
Back to All News