3 Chinese Online Markets Listed in 2019 Notorious Markets List
The United States Trade Representative (USTR) released their annual Review of Notorious Markets for Counterfeiting and Piracy for 2019 on April 29, 2020 and included three mainland Chinese online markets in the online market section of the list.  Markets on the list are reported to engage in or facilitate substantial trademark counterfeiting and copyright piracy.  There is no penalty for being listed but the list has been used to encourage foreign companies and countries to crack down on piracy and counterfeiting.  The three Chinese companies listed are DHGate (敦煌网), Pinduoduo (拼多多), and Taobao (淘宝网) (owned by Alibaba (阿里巴巴集团控股有限公司)).  The report also listed seven physical markets located in China notorious for selling counterfeit goods.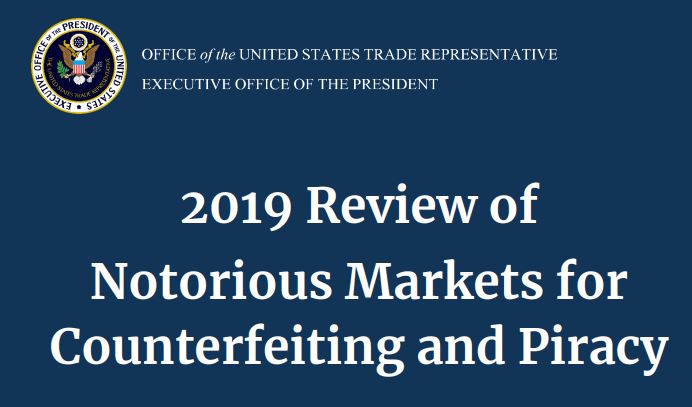 Per the USTR, DHgate is the largest business-to-business cross-border e-commerce platform in China with over 21 million registered buyers, over 22 million products for sale, and over 2 million Chinese merchants. DHGate has made significant improvements to decrease the number of counterfeit goods on it online market including increasing penalties for sellers of counterfeit products, automating the process of collecting global brand information, launching an image recognition system to identify pictures of likely counterfeit goods, and adding  many brand related keywords to its counterfeit filter system.
Pinduoduo, founded by an x-Google engineer, is China's second largest e-commerce platform (based on number of users) and listed in the US on NASDAQ in 2018 raising $1.6 billion.  Since its initial inclusion in the list in 2018, Pinduoduo has launched a customized anti-counterfeiting plans for the brands that it deems to have the highest counterfeit exposure and released an English-language version of its IP Protection Portal.  Pinduoduo has also instituted an aggressive policy of fining merchants of counterfeit goods. all merchants must submit a deposit that is used to reimburse purchasers of counterfeit goods. If Pinduoduo confirms the sale of counterfeits  the deposit is forfeited at 10 times the value of an entire batch of goods. However, rights holders have conveyed to the USTR that there is lack of a clear and transparent IP enforcement policy, which needs to be improved.
Taobao is the largest online marketplace in China, if not the world. It was originally added to the list in 2016 and while Alibaba has taken steps to improve IP protection, "Taobao remains one of the largest sources of counterfeit sales in China."  The Chinese government has also taken action against Alibaba and Taobao sellers for intellectual property law violations, including fining Alibaba for malicious trademark registration and imprisoning Taobao sellers for sales of counterfeit Gucci and Burberry products (this last case made the China's Supreme People's Procuratorate  Top Example Cases of Criminal Intellectual Property Rights Infringement in 2019).
Regarding physical markets, four of the seven listed are in Southern China, in the export powerhouse province of Guangdong. Some of the markets are geared to foreigners looking to export while others are geared to locals and tourists.  Counterfeit merchandise includes apparel, watches, electronics, shoes, luggage, and handbags. 
Simultaneously, the USTR also released its Annual Special 301 Report on Intellectual Property Protection identifies trading partners that do not adequately or effectively protect and enforce intellectual property (IP) rights or otherwise deny market access to U.S. innovators and creators that rely on protection of their IP rights. China was included in the report.

Back to All Resources