Accusation of Chinese Patent Infringement Leads to Slander Lawsuit Victory
In what can only be considered a really bad business decision, before the filing of a patent infringement lawsuit, Zhejiang KoBach Kitchenware Co., Ltd. (跳转至浙江巴赫厨具有限公司) accused Zhejiang Supor Co., Ltd. (浙江苏泊尔股份有限公司) of patent infringement in a full page advertisement in the Yangcheng Evening News on October 21, 2019. In response, on November 21, 2019, Supor filed a lawsuit accusing KoBach of  commercial slander.  On January 5, 2021, the Hangzhou Intermediate Court released a decision (dated December 14, 2020) ruling in favor of Supor and awarding Supor  3 Million RMB (~$463 Thousand USD) in damages.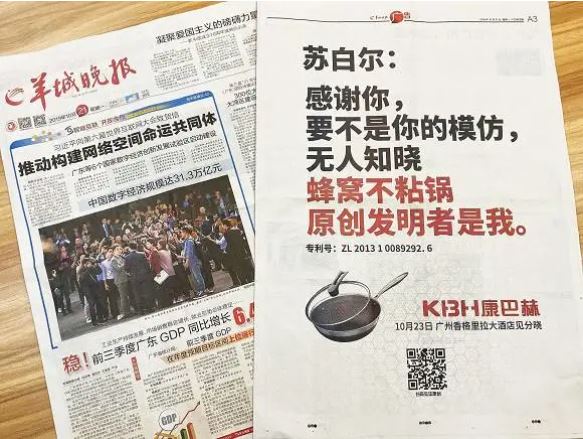 In addition to the print newspaper advertisement, KoBach reprinted the advertisement on various Chinese social media including WeChat and Weibo.  KoBach also attempted to hold a press conference regarding the alleged infringement.  
On November 21, 2019, Supor filed a lawsuit with the Hangzhou Intermediate People's Court, accusing KoBach Company of  commercial slander and claiming 15 million yuan.
The Hangzhou Intermediate People's Court concluded that the core meaning of  KoBach's accusations was that Supor had infringed its patent rights. However, when the above information was released, no judicial judgment or administrative decision determined that Supor infringed KoBach's patent rights. On the contrary, KoBach filed a lawsuit in the court after publishing the above accusation, accusing Supor and other defendants of infringing its patent rights (the patent infringement lawsuit was dismissed due to patent invalidity).
The court noted that the ZL201310089292.6 patent claimed by KoBach is a method patent and therefore requires analyzing the accused manufacturing method against the patented method.  Infringement cannot be determined simply by product comparison. Accordingly, KoBach had no evidence to show that when it made the public accusations, it knew that Supor had implemented the patented method itself or knew the specific method so that it could perform an infringement analysis. In fact, when KoBach filed a patent infringement lawsuit against Supor and other defendants, it did not submit evidence to show infringement. Instead, it applied to the court for evidence preservation to discover manufacturing method for Supor's products.  Even worse, the evidence preservation request was not for Supor, but for the manufacturer of Supor's products (a separate entity).
This means that when KoBach released the aforementioned accusation, it could not determine the specific manufacturing method of Supor's products, let alone determine that the method infringed its patent rights; at the same time, KoBach knew that Supor did not even implement the corresponding manufacturing method, but rather the Supor's manufacturer implemented the alleged infringed method. 
The Hangzhou Intermediate People's Court ruled: under this premise, KoBach released the above-mentioned accusation, which lacked factual basis and could easily mislead the relevant public, making people mistakenly believe that Supor's infringement of KoBach's patent rights is an established fact. The above-mentioned accusation released by KoBach is false and misleading information regulated by the Anti-Unfair Competition Law, which has caused damage to Supor's business reputation and product reputation. KoBach committed commercial slander and should bear civil liabilities.
Specifically, the Court ruled that KoBach should take out another full page advertisement in the Yangcheng Evening News to eliminate the impact as well publish a statement on its website and social media accounts. Further, KoBach will pay  Supor 3 Million RMB for economic losses and reasonable expenses paid to the stop the slander.
In a Court WeChat post regarding the case, the Judge stated, in part,
The original intention of granting patent rights is to protect and encourage innovation, rather than being used as a tool for commercial warfare, let alone a cover to slander the goodwill of others. Today, with increasing emphasis on intellectual property protection and independent innovation, accusing competitors of patent infringement will inevitably have a negative impact on their goodwill; if such accusations have no definite basis, they are likely to constitute commercial slander and will be subject to legal responsibility. In addition, competition by discrediting the goodwill of competitors may attract attention and increase traffic. It may benefit in the short term, but it will inevitably have an impact on the status of its own brand in the minds of consumers. The long-term fears do more harm than good. A good business environment requires the joint construction of all parties, and only in a good business environment can all market players compete fairly and maximize their own interests.
The opinion is available here: 判决书 (1) (Chinese only).

Back to All Resources