China to Establish Fourth Intellectual Property Court at Hainan Free Trade Port
On December 26, 2020, China's National People's Congress (NPC) approved the formation of an Intellectual Property Court at the Hainan Free Trade Port per the "Decision of the Standing Committee of the National People's Congress on the Establishment of the Hainan Free Trade Port Intellectual Property Court" (全国人民代表大会常务委员会关于设立海南自由贸易港知识产权法院的决定).  This will be China's fourth intellectual property court.  The decision goes into effect January 1, 2021.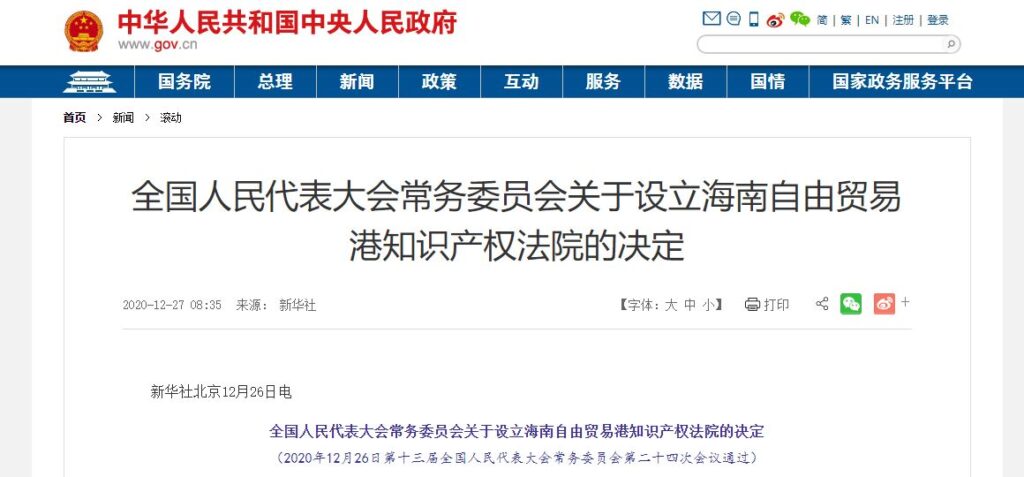 The NPC stated that the Court was approved  in order to "increase judicial protection of intellectual property rights, create a good business environment, and promote the construction of a free trade port with Chinese characteristics."
The Intellectual Property Court of Hainan Free Trade Port will have jurisdiction over the following cases:
(1) Hainan Province's first-instance intellectual property civil and administrative cases involving patents, trade secrets, computer software, new plant varieties, integrated circuit layout designs, identification of well-known trademarks and monopoly disputes, etc.;
(2) First-instance civil, administrative, and criminal cases of intellectual property rights under the jurisdiction of the Intermediate People's Court of Hainan Province other than the provisions of the preceding paragraph;
(3) Cases of appeals and protests of civil, administrative and criminal judgments and rulings on intellectual property by the Hainan Provincial Basic People's Court;
(4) Other cases under its jurisdiction as determined by the Supreme People's Court.
The first instance of criminal intellectual property cases that will be heard by the Hainan Free Trade Port Intellectual Property Court will be prosecuted by the First Branch of the Hainan Provincial People's Procuratorate. 
Hainan Free Trade Port Intellectual Property Court's first-instance judgments and appeals are heard by the Hainan Higher People's Court, unless there are special provisions in the law.
It is unclear however how busy this new Court will be as Hainan is known as the "Hawaii of China" and not as a high-tech zone with lots of research and development that might generate  patent and trade secret disputes nor as a manufacturing hub that might generate other intellectual property disputes.

Back to All Resources