China's Shanghai Pudong Court Sentences 69 Defendants for Counterfeiting Chanel, Cartier and Gucci Products for up to 5 Years 9 Months with a $1.8 Million USD Fine
In a October 21, 2021 announcement by the Shanghai Pudong Court, the court sentenced 69 defendants to imprisonment ranging from eight months to five years and nine months with fines ranging from 5,000 RMB to 11.7 million RMB (~$1.8 million USD) for the crime of counterfeiting registered trademarks or the crime of selling commodities bearing counterfeit registered trademarks for Chanel, Cartier, Gucci and many other brands.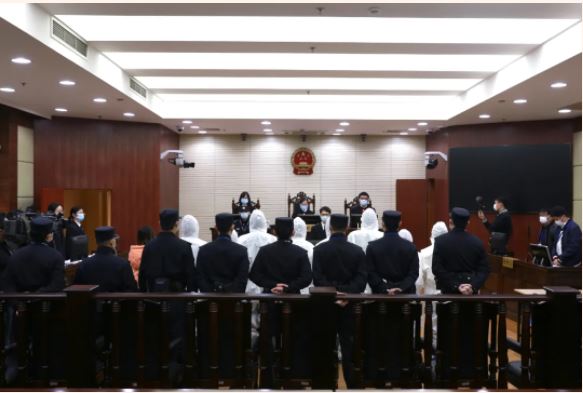 In the series of cases of counterfeit designer clothes, the court found after trial that from January 2018 to July 2020, defendant Liu and his wife, Zhang, organized employees of the company or entrusted other processing factories to process and produce counterfeit clothes of "Chanel," "Gucci," "Balenciaga," "Dior," "Fendi," "Loewe," "LV," and other brands, with a sales amount of more than 42.4 million RMB.
The division of labor among this group is clear. Liu ran a company, and Zhang was responsible for purchasing genuine clothes, which were reproduced by the clothing design office of the company, and then entrusted to a factory for wholesale production. Finally, these counterfeit clothes were sold by salespersons in stores. Among them, Wang was responsible for collecting shop payment and paying wages, and Li was responsible for financial affairs. The chain also involved dozens of designers, samplers, quality inspectors, salesmen and more.
After the case was exposed, the public security bureau seized a large amount of counterfeit "Chanel", "Gucci" and other brand clothes in the warehouse, sales outlet and processing factory respectively, and some defendants were captured on the spot.
After a trial, the Pudong Court of Shanghai held that: For the purpose of seeking illegal benefits, defendant surnamed Liu hired a large number of employees to produce and sell counterfeit clothes of several internationally famous brands. His acts constituted the crime of counterfeiting registered trademarks, which was subjective malevolence and serious social harmfulness. Therefore, defendant surnamed Liu was sentenced to a fixed-term imprisonment of five years and nine months with a fine of 11.7 million RMB. Three defendants, Zhang, Wang, and Li, were also sentenced to criminal penalties and fines.
Earlier, another 44 defendants in this series of cases were sentenced to fixed-term imprisonment ranging from one year and six months  to four years and three months for the crime of counterfeiting registered trademarks, with a total fine of more than 3 million RMB.
In a series of cases on fake designer jewelry, the court found upon trial that from June 2019 to October 2020, Huang, jointly with Liu, Luo and another eight persons, ran a jewelry company, produced fake Cartier, Van Cleef, Earl and other brand jewelry, and made profits through Taobao stores and WeChat sales, amounting to more than 700,000 RMB.
At the same time, Huang also bought shares in a company actually controlled by Feng engaging in the same business, which produced and sold counterfeit Cartier brand jewelry by purchasing raw materials for processing by itself or by processing raw materials for clients after they were purchased. Knowing this situation, Yang, Ma, Tan and another eight persons still held posts, and assisted in the production of counterfeit jewelry. Wu and Guo were equally well aware of the counterfeiting act, but invested in the shares and received monthly income and interest.
On October 22, 2020, the public security bureau arrested some defendants and seized on the spot the jewelry and packing boxes with the Cartier logo as well as the 1,370 grams of gold used for producing counterfeit Cartier jewelry.
After trial, the Pudong Court of Shanghai held that: The 21 defendants used the same trademark as the registered trademark on the same kind of commodities without the permission of the trademark owner, and the acts have constituted the crime of counterfeiting registered trademarks. Moreover, the amount involved in this series of cases was more than 61 million RMB, and the criminal circumstances were especially serious, which caused serious damage to the brand reputation and economic interests and also infringed upon the interests of consumers. According to the defendant's criminal circumstances, social harmfulness, and attitude to confessing to his crime, the court sentenced 21 persons to imprisonment for a term of  eight months to five years and nine months and imposed corresponding fines.

Back to All Resources