China's State Administration for Market Regulation Releases Draft Provisions on the Protection of Trade Secrets
On September 4, 2020, China's State Administration for Market Regulation (SAMR) released the Draft Provisions on the Protection of Trade Secrets 《商业秘密保护规定(征求意见稿)》 for comment.  The draft provisions provide definitions of trade secrets and infringement (theft) of same; how to investigate suspected infringement of trade secrets; and legal liability for trade secret infringement.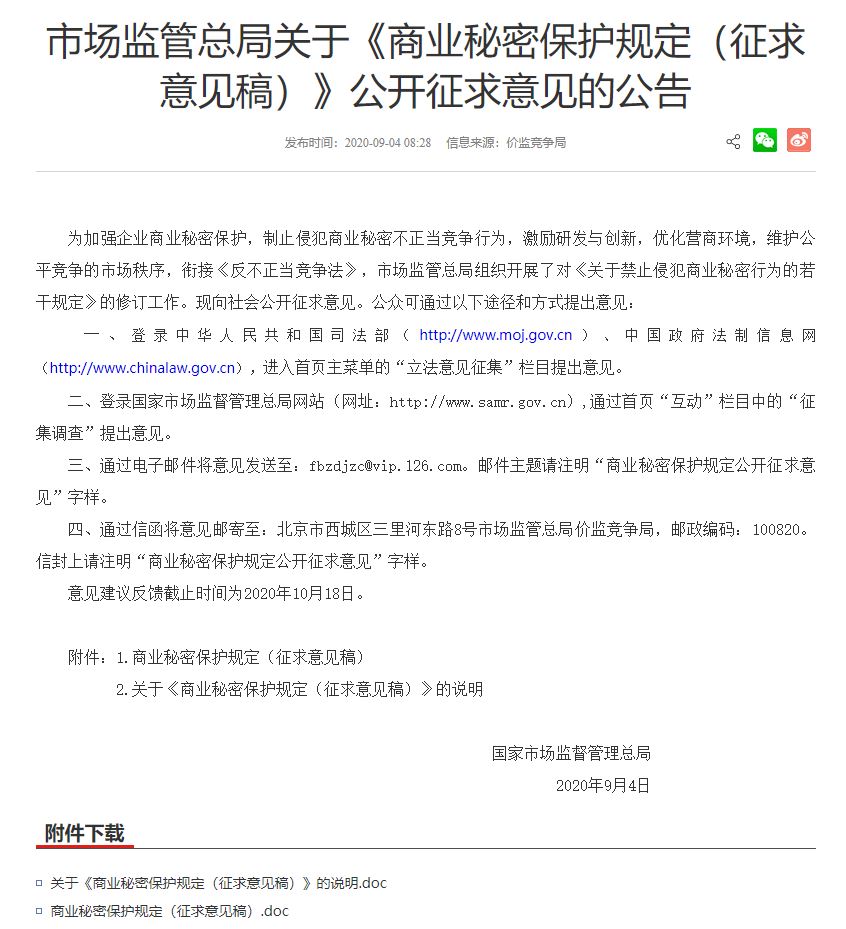 Trade Secrets Defined
The draft provisions define trade secrets as "technical information, business information and other business information that is not known to the public, has commercial value, and has been subject to appropriate confidentiality measures taken by the right holder." 
Technical information is defined as "including but not limited to design, procedures, formulas, product formulas, production processes, production methods, research and development records, experimental data, technical know-how, and technology information such as drawings, programming specifications, computer software source code and related documents."
Operating information is defined as "including but not limited to management know-how, customer lists, employee information, supply information, production and sales strategies, financial data, inventory data, strategic planning, purchase prices, information such as profit model, base price in bidding and content of tender documents."
The draft includes five exceptions to "unknown to the public," two of which are somewhat nebulous:
…
(3) The information is common sense or industry practice generally mastered by relevant personnel in the field;
(4) The information is easily obtained without paying a certain price or can be obtained from other public channels;
…
The term "commercial value" means that the information has actual or potential commercial value due to its confidentiality, and can bring commercial benefits or competitive advantages to the right holder.
"Appropriate confidentiality measures" in the draft provisions include:
(1) Determining the confidentiality level, confidentiality period and the scope of information of classified information, and only inform the relevant persons who must know the content;
(2) Employment and resignation interviews to remind and warn current employees and former employees to perform their confidentiality obligations;
(3) Documents or devices holding trade secrets have preventive measures such as encryption, locking, decompilation, etc., or marked confidentiality marks or encryption prompts on the relevant carrier;
(4) Using passwords or codes to access trade secrets;
(5) Take basic physical isolation measures, such as access control, monitoring, and authority control, to restrict visitors to secret-related machinery, workshops,  and other places;
(6) Develop corresponding confidentiality management systems and sign confidentiality agreements with relevant personnel;
(7) Stipulate confidentiality obligation in non-competition agreements;
(8) The right holder clearly defines the scope of trade secrets in employment contracts or confidentiality agreements and is consistent with the scope of the secrets claimed;
(9) Other reasonable measures to ensure that confidential information cannot be easily obtained by others.
Infringement of Trade Secrets
Article 12 of the draft defines illegally obtaining trade secrets as "using theft, bribery, fraud, coercion, electronic intrusion or other improper means to obtain the right holder's trade secrets. including but not limited to:
(1) Dispatch commercial spies to steal the business secrets of the right holder;
(2) By providing financial, tangible or intangible benefits, high-paying employment, personal threats, designing traps, etc., to induce, defraud, or coerce employees or others to obtain trade secrets from the right holder;
(3) Entering the electronic information system of the right holder without authorization or beyond the scope of authorization to obtain trade secrets or planting computer viruses to destroy their trade secrets. Among them, the electronic information system refers to all electronic devices that store the right holder's trade secrets, including digital office systems, servers, mailboxes, cloud storage, application accounts, etc.;
(4) Unauthorized access to, possession or copying of documents, articles, materials, raw materials or electronic data that are under the control of the right holder and contain trade secrets or can be derived from them in order to obtain the right holder's trade secrets;
(5) Taking other improper methods that violate the principle of good faith or business ethics to obtain the right holder's business secrets."
Investigation and Handling of Suspected Violations of Trade Secrets
Trade secret holders alleging infringement should provide proof to the SAMR that the trade secret meets statutory requirements:
(1) The development process and completion time of trade secrets;
(2) The  trade secrets are not known to the public;
(3) The commercial value of trade secrets;
(4) The confidentiality measures adopted for the trade secret.
The trade secret holder should also provide preliminary evidence to reasonably show that it's trade secret has been infringed.
A SAMR investigation can be suspended if there is a co-pending civil litigation. Further, if there is a criminal violation, the SAMR can transfer the case to the People's Procuratorate.
Legal Liability
Violations of these draft regulations shall be punished in accordance with Article 21 of the Anti-Unfair Competition Law, which authorizes fines of up to 5 million RMB (~$732 thousand USD) in serious cases.  The draft provisions define serious as:
(1) The right holder loses more than 500,000 RMB due to infringement of trade secrets;
(2) Profits exceeding 500,000 RMB due to infringement of trade secrets;
(3) Causes the trade secret holder to go bankrupt;
(4) Refusing to compensate the right holder for the losses;
(5) The electronic intrusion method causes serious damage to the right holder's office system network and computer data;
(6) Causing major economic losses to the country or society, or having a bad social impact;
(7) Other serious acts.
Injunctions are also available. 
Importantly, the SAMR has a duty of confidentiality regarding trade secrets: Market supervision and management departments shall not disclose the specific content of trade secrets involved in administrative punishment information.  Other state agencies and their public servants have the obligation to keep confidential the trade secrets they learn in the course of performing their official duties, and shall not disclose, use or allow others to use the right holder's trade secrets beyond the scope of their duties.
The full text of the 39 Articles of the draft provisions is available here: 商业秘密保护规定(征求意见稿).
Comments on the draft can be submitted online (i.e., via the SAMR website), via email (fbzdjzc@vip.126.com), or postal mail. The deadline for comments is October 18, 2020.  

Back to All Resources