China's Supreme People's Court Releases 5-Year Intellectual Property Judicial Protection Plan
On April 22, 2021, China's Supreme People's Court issued the The People's Court Intellectual Property Judicial Protection Plan (2021-2025) (人民法院知识产权司法保护规划 (2021-2025年)) for implementation by lower courts throughout China.  The Plan lists 5 main points: General Requirements (e.g., guiding ideology of Xi Jinping Thought); Giving full play to the functions of intellectual property trials (e.g., efficient litigation); Deepening the reform and innovation in the field of intellectual property trials (e.g., improve IP Courts); Optimizing the working mechanism of intellectual property protection (e.g., strengthen linkage between judicial and administrative enforcement); and Strengthening the safeguards of intellectual property trials (e.g., human resources, political ideology).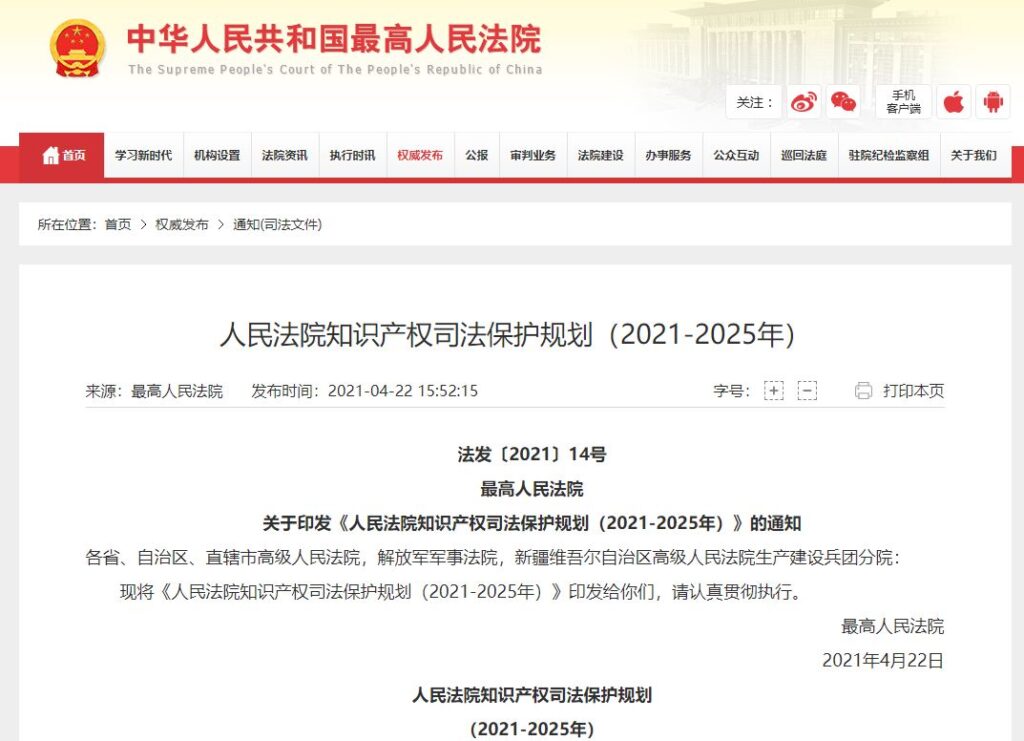 More specifically of interest, the Plan states the Courts will:
improve the quality of patent authorization and determination of patent rights;
strengthen the judicial protection of trademarks including

improve the quality of trials of trademark administrative cases 
intensify the punishment of malicious preemptive registration and hoarding of trademarks;

strengthen judicial protection of geographical indications; and
intensify the punishment of intellectual property infringement including the accurate application of punitive damages.
Some of these Plan elements can already be seen in action, if not in the Courts, then in other state administrations.  For example, for malicious registration, various bureaus of the State Administration of Market Regulation have been fining both applicants and trademark agencies for malicious registration.  Further, in a report from the Party Group of the China National Intellectual Property Administration (CNIPA) 14,600 malicious applications for trademarks not intended for use were rejected in 2020.
With respect to geographical indications, China and the European Union (EU) last year signed an agreement to protect each other's geographical indications.
With respect to punitive damages, in March 2021 the Supreme People's Court released a list of typical cases of punitive damages  for people's courts to follow. The list includes 5 trademark infringement cases and 1 theft of trade secrets case.  Once the newly amended patent law goes into effect June 1, 2021 authorizing quintuple punitive damages, we can expect to see higher awards on the patent side also.
The complete text of the plan is available here (Chinese only).

Back to All Resources