China's Yaohai District Market Supervision Bureau Issues 20 Million RMB Fine for Trademark Infringement
According to a report by 知识产权界, the Yaohai District Market Supervision Bureau in Hefei, China has fined Hefei Huibin Entertainment Management Co., Ltd. (合肥汇宾娱乐管理有限公司) 20 million RMB (~$2.9 million USD) for trademark infringement. Huibin ran a nightclub in a hotel under the name Shanghai Beach (上海滩) and Shanghai Beach Entertainment Club (上海滩娱乐会所) and was accused of trademark infringement for the use of  the trademark 上海滩.
On October 19, 2017 law enforcement officers went to Huibin to conduct an on-site inspection of its business premises. The officers found "Shanghai Beach Entertainment Club" and "Shanghai Beach" was used on the premises (for example, at the entry to the night club). 
The Supervision Bureau learned that Huibin had declared income from October 1, 2017 to March 30, 2019 was 6,578,156.76 yuan.  The Bureau then requested additional evidence from Huibin including detailed information on income. However, no evidence was provided.  Accordingly, the Bureau used the 6,578,156.76 as the base for calculating a fine and fined Huibin 20 million RMB as well ordering Huibin to cease infringing.  The fine could have been even higher, as per Article 60 of the Trademark Law, the Bureau can fine the infringer up to five times the illegal revenue generated.
Accordingly, trademark owners should also consider administrative enforcement in conjunction with bringing a trademark infringement lawsuit. Administrative enforcement can yield large fines even exceeding damages awarded in litigation as in the 31 million RMB fine against Beijing Creative Mackey Plus Information Consulting Co., Ltd. (北京创意麦奇佳偶信息咨询有限公司).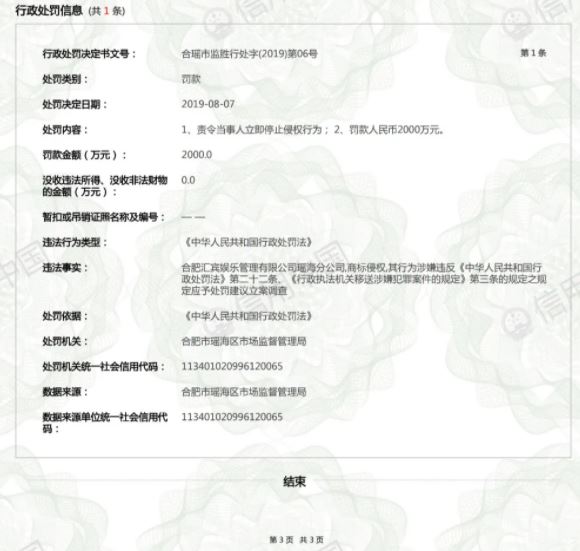 .

Back to All Resources