Patent Trends to Watch in 2016
2016 is starting off with a bang!  A number of interesting new developments have occurred as we enter into this new year:
The Supreme Court will review broadest reasonable interpretation (BRI), courtesy of the petition for cert in Cuozzo
The Federal Circuit continues to selectively review and provide guidance on PTAB decisions, such as in Ethicon Endo-Surgery v. Covidien LP
Federal district courts continue to draw from IPR, CBM and PGR proceedings for their decisions, such as in cases like Aylus Networks, Inc. v. Apple Inc.
The Board is also quite busy, and recently announced two new precedential decisions already this year:
The volume of AIA Petitions continues to rise (data courtesy the USPTO):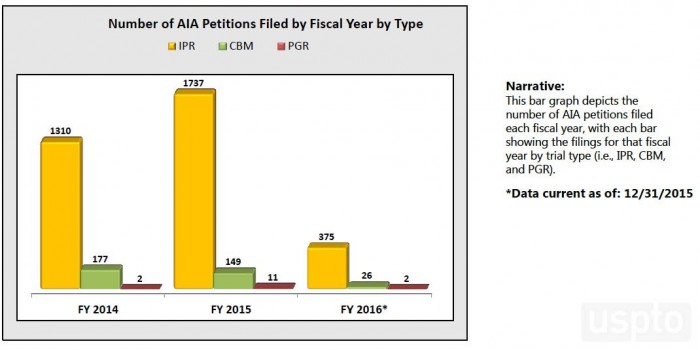 So we will monitor practices by the courts, the PTAB, stakeholders, and patent practitioners to observe the effects and interplay of these decisions and actions over the course of the year.  In particular, it will be interesting to see how the Board and the courts handle claim construction issues knowing that BRI may be revised by the Supreme Court.  Also of great interest is how parallel patent infringement trials will be impacted by the PTAB proceedings on the underlying patents.

Back to All Resources