The China National Intellectual Property Administration Aims to Speed Up Patent Prosecution
The China National Intellectual Property Administration (CNIPA) released its annual budget on June 11, 2020.  Besides a significant amount of financial data, the budget shows performance goals and indicators.  The current examination time to final disposition for an invention patent application is 22 months with a 2022 goal of 16.5 months.  Patent invalidations are relatively fast at 6 months with a goal of maintaining this level. 
The U.S. Patent & Trademark Office (USPTO) offers similar numbers for pendency with a traditional total pendency of 23.4 months. Chinese patent invalidations are particularly fast compared to the US with average pendency for ex parte reexaminations of 20.32 months according to the latest data. Inter partes review, the other main method to invalidate a U.S. patent, should be no longer than 1 year with an extension of up to 6 months for good cause, by law.
| | | |
| --- | --- | --- |
| Patent Office | Pendency | Invalidation |
| CNIPA (goal) | 22 months (16.5 months) | 6 months (maintain) |
| USPTO | 23.4 months | 20.32 months/ 12-18 months |
The total 2020 budget for CNIPA is 1,293,696,450 RMB (about $183 million USD) compared to the USPTO's requested 2021 budget of $3.695 billion USD.
The full budget is available here: 国家知识产权局2020部门预算.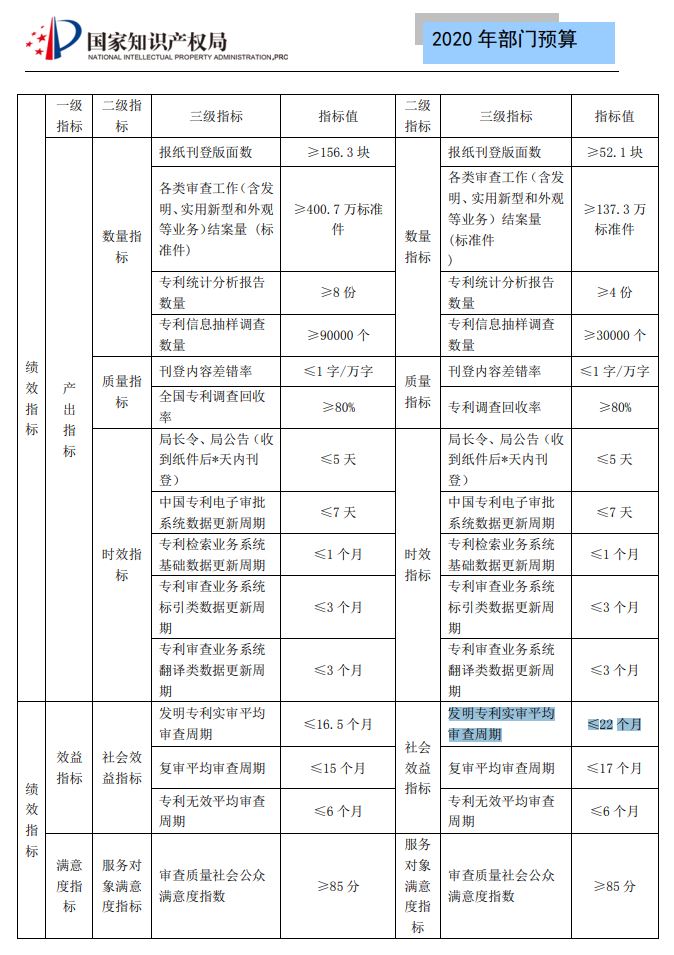 Back to All Resources