Zhejiang, China Fines Hangzhou Patent Firm for Not Withdrawing 164 Abnormal Patent Applications and Suspicion of Filing 1,192 Abnormal Applications in Total
In a decision dated October 21, 2021, the Zhejiang Provincial Market Supervision and Administration Bureau  fined a Hangzhou, China patent firm 20,000 RMB for not withdrawing abnormal (irregular) patent applications in decision no. 浙市监处罚〔2021〕3号.  The China National Intellectual Property Administration (CNIPA) has defined abnormal applications in the Measures Regarding the Regulation of Patent Applications (关于规范申请专利行为的办法) and includes filing multiple same patent applications among other actions.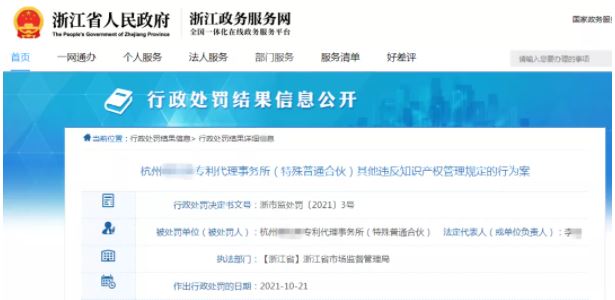 On February 22, 2021, the CNIPA reported the existence of abnormal patent applications for non-protection of innovation in Zhejiang Province through the Notification of the Office of the CNIPA on Relevant Issues concerning Patent Applications in Zhejiang Province (国知办函保字[2021]161号). CNIPA had identified 777 suspected abnormal patent applications involving the parties concerned.
After receiving the request for rectification, the parties concerned did not earnestly rectify, resulting in 164 suspected abnormal patent applications not being withdrawn, and failed to conduct a comprehensive examination of the patent applications represented by the remaining parties, resulting in a notification of a second batch of abnormal applications in May 2021 listing 415 suspected abnormal patent applications involving the agents.
In all, the parties were suspected of representing 1,192 abnormal patent applications.
Punishment includes a warning, an order to correct the violation within a time limit, and a fine of 20,000 RMB. 
This contrasts with previous cases in which patent firms were fined for filing irregular applications, even if they withdrew them. For example, earlier this year, Shanghai fined a firm for filing 26 irregular design applications even though the firm withdrew the applications.  Shanghai also proposed fining applicants up to 150,000 RMB for filing irregular patent applications.
Article 2 of the Measures Regarding the Regulation of Patent Applications (关于规范申请专利行为的办法) defines the following behaviors as abnormal or irregular:
 (1) Simultaneously or successively submitting multiple patent applications that are obviously the same in invention-creation content, or are essentially formed by simple combinations of different invention-creation features or elements;

  (2) The submitted patent application contains fabricated, forged or altered inventions and creations, experimental data or technical effects, or plagiarism, simple replacement, patchwork of existing technology or existing designs, etc.;

  (3) The invention-creation of the submitted patent application is obviously inconsistent with the actual research and development capabilities and resource conditions of the applicant and inventor;

  (4) The invention-creation content of multiple patent applications submitted is mainly generated randomly by computer programs or other technologies;

  (5) The invention-creation of the submitted patent application is an invention deliberately formed for the purpose of circumventing patentability examination, which is obviously inconsistent with technical improvement or design common sense, or has no actual protection value, is inferior, piles up, or unnecessarily limits the scope of protection Creation, or content without any search and review significance;

  (6) In order to evade the supervision measures against irregular patent applications, multiple patent applications that are substantially related to a specific entity, individual or address are scattered, submitted sequentially or in different places;

  (7) Not buying or reselling patent application rights or patent rights for the implementation of patented technologies, designs or other legitimate purposes, or falsely altering inventors or designers;

  (8) Patent agencies, patent agents, or other institutions or individuals, acting as agents, inducing, instigating, helping others, or conspiring with them to implement various types of irregular patent applications;

  (9) Other irregular patent applications and related behaviors that violate the principle of good faith and disrupt the normal order of patent work.

Back to All Resources