Are Your Patent Procurement Guidelines Outdated?
I saw a bumper sticker that said:  "Change is inevitable, but growth is optional."  This is true in many facets of life, and it is true for patent practice.  The changes of the past few years are numerous and far-reaching.  Is your patent portfolio strategy growing with these changes?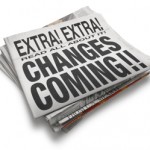 One Simple Exercise
If you are responsible for your company's patent portfolio, try this simple exercise:  look at your patent procurement guidelines to find out when they were last updated.  If they were last revised over two years ago, chances are they do not contemplate options like:
Track One filings in the USPTO for faster patent examination,
steps to use the USPTO's After Final Consideration Pilot (AFCP) program to rapidly resolve pending prosecution, and
procedures to improve your future patent filings in order to survive claim challenges from IPRs, CBMs, and PGRs under the America Invents Act.
All of these options provide tools that can issue more meaningful and robust patents for your company and trim your patent portfolio's bottom line.
Why Are These Tools Important?
Each of these tools can provide strategic advantages for your portfolio, depending on your goals.  For example:
Track One filings may be used in a campaign of patent filing to rapidly assemble issued patent rights in a strategic area, to bolster an ongoing enforcement campaign, or to offset expected or pending AIA patent challenges.
The after final consideration pilot program (AFCP) can be used to avoid needless and expensive RCE practice and to accelerate issue of valuable claims.
Drafting measures that enhance your patents' ability to survive (or even avoid) AIA patent trials will become increasingly important–especially if Congress passes legislation to moderate post-grant review estoppel.  Your company saves hundreds of thousands of dollars each time your patents avoid an AIA patent trial — not to mention the potential recoveries that the patent brings when it is clear to the challenger that it is valid and infringed.
Act Now
Of course, there are many more tools for your procurement guidelines and the ones listed above are only some examples.  Every business requires different tools and approaches to match the patent practices and opportunities of that industry.
It takes time to assemble a good set of guidelines.  Even after the guidelines are complete, know that procedures to generate better patents can take time to implement.
When asked to audit patent filings for various companies, I was surprised by a pattern of reluctance to adopt new filing practices observed with preparation and prosecution counsel.  I heard various excuses to resist change, such as "we have been drafting claims like this for years."   That was undoubtedly true prior to the AIA; however, the scrutiny that patents receive in AIA patent trials is substantially different than prior reexamination and litigation proceedings.
AIA post-grant proceedings are not going away any time in the foreseeable future.  Therefore, we are in a new patent enforcement paradigm and patent procurement practices have to change to adapt to this new enforcement paradigm.  Make sure that your patent prosecution practices are updated to generate the most effective rights possible.
[Editor's Note:  Additional installments on patent preparation and prosecution in light of the AIA will be posted in the future.  Subscribe for updates.]

Back to All Resources