Artificial Intelligence Cannot Be Patent Inventor in China's Draft Amended Patent Examination Guidelines
In China's Draft Revised Patent Examination Guidelines (Second Draft for Solicitation of Comments) (专利审查指南修改草案(第二批征求意见稿)), Artificial Intelligences (AIs) cannot be listed as inventors for Chinese patent applications.  (The draft Patent Examination Guidelines are similar to the Manual of Patent Examining Procedure in the U.S.) The current draft was released by the Chinese National Intellectual Property Administration (CNIPA) on November 10, 2020 with comments due by December 10, 2020.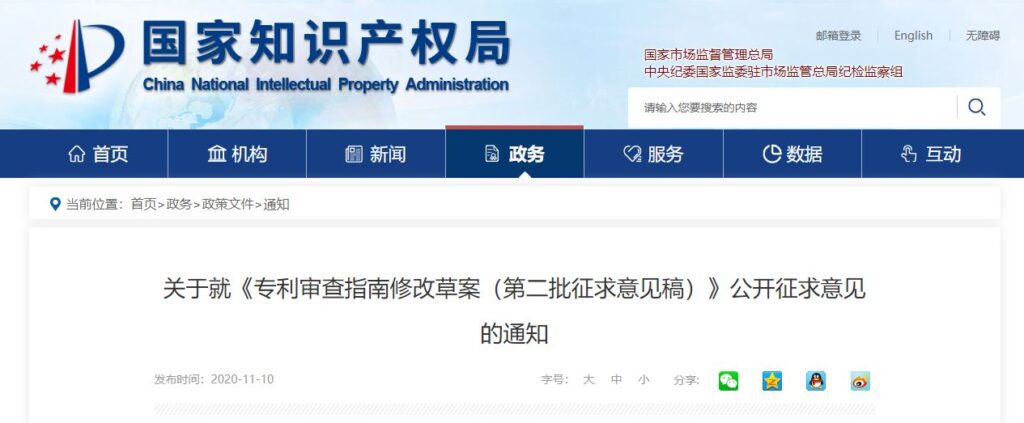 Part One, Chapter 1. Section 4.1.2 of the draft Guidelines are amended to specifically exclude an AI as an inventor.  Other proposed changes include to design patents (adding examples of illegal products that cannot be patented); and clarifying that treatment methods that achieve intermediate results  are patent subject matter eligible. A specific example of a non-eligible method of treatment example was deleted – method of measuring blood pressure as it achieved an intermediate step. There are many more changes too numerous to discuss here but the full list of proposed changes is available here: 《专利审查指南修改草案(第二批征求意见稿)》修改对照表 (Chinese only).
This change to indicate an AI is not a proper inventor follows the USPTO petition decision in U.S. Patent Application No. 16/524,350 denying DABUS (Invention generated by an artificial intelligence) to be listed as an inventor. No word yet on whether DABUS will file comments to CNIPA requesting removal of this proposed exclusion in China.
In case DABUS (or anyone else) wishes to submit comments they must be submitted by December 10, 2020 via one of the following means:
1. Email: tiaofasi@cnipa.gov.cn
2. Fax: +86-10-62083681
3. Postal Mail: Examination Policy Division, Department of Treaty and Law, State Intellectual Property Office, No. 6 Xitucheng Road, Haidian District, Beijing, 100088 (please indicate "Examination Guidelines" in the lower left corner of the envelope)

Back to All Resources