Beijing Intellectual Property Court Affirms Invalidation of Van Cleef & Arpels' Chinese 3D Jewelry Trademark
On July 20, 2020, the Beijing Intellectual Property Court announced it affirmed an earlier ruling by the Trademark Office of the China National Intellectual Property Office invalidating Van Cleef & Arpels' (VCA) three-dimensional trademark for a four leaf clover design used in their Alhambra line of jewelry. The Trademark Office originally approved VCA's three-dimensional trademark in January 2016 for 14 jewelry-related goods/services including  gemstones; necklaces, etc. In April 2018, a third-party, Bi Mou , filed a request for invalidation of the trademark and the Trademark Office ruled that the registration of the disputed trademark falls under the provisions of Article 11 of the Trademark Law prohibiting registration of marks lacking distinctive features and therefore invalidated the mark.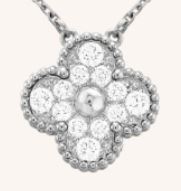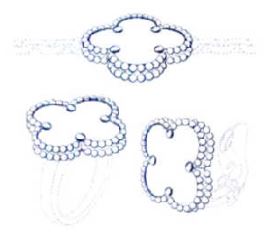 VCA filed a complaint with the Beijing Intellectual Property Court challenging the decision arguing: 1. The disputed trademark was originally created by the plaintiff. It has multiple unique designs that are different from other general jewelry and therefore is an identification of the source of goods. 2. The long-term use of the disputed trademark by the plaintiff  distinguishes the source of the goods and can be registered and used as a trademark.
However, the Court held that "although the shape and decorative combination of the disputed trademark have certain characteristics, it is used for the approved and registered "jewelry" and other commodities. Consumers can easily recognize shape of the product but it is difficult to distinguish the source of the product."
Further, the Court held that the trademark did not acquire distinctive features through actual use and is not easy to identify.  While VCA  "can prove that the company's Clover Alhambra series of products have been widely promoted and sold in the Chinese market, it cannot prove that the disputed trademark has acquired distinctive features through use and are easy to identify per Article 11 of the Trademark Law."
While this case undergoes further appeal, VCA can fall back on their design patent rights. VCA has not been remiss in their Chinese design patent filings with over 100 design patents granted.  Several of VCA's registered designs cover the Alhambra line including the beautiful CN305885612S.


Back to All Resources