Beijing Intellectual Property Court Affirms Jaguar Land Rover's Win Against Landwind for Copying Evoque
According to a report in China's IPR Daily, on May 27, 2021, the Beijing Intellectual Property Court affirmed Jaguar Land Rover's (JLR) win against Landwind (陆风) for unfair competition relating to the Landwind X7, a vehicle that looks remarkably similar to the JLR Evoque. Landwind must issue an apology, pay compensation and cease infringing.   Earlier, JLR successfully invalidated Landwind's design patent for the X7.  However, JLR failed in its claim for copyright infringement on appeal.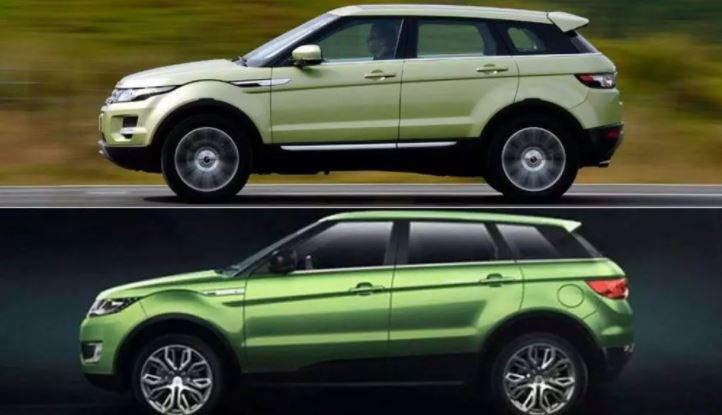 On appeal, the Beijing Intellectual Property Court stated re unfair competition that the packaging and decoration of goods protected by the Anti-Unfair Competition Law not only refers to the arrangement of words, patterns, colors and the permutation and combination of various elements to goods or their packaging for the purpose of identifying and beautifying goods. It also includes the overall or partial appearance structure of the article that belongs to the product body but has a decorative effect, except for the shape generated by the nature of the product itself, the product shape for obtaining technical effects, and the shape that gives the product substantial value.
In this case, the five design features of the appearance of the "Range Rover" as advocated by JLR have, on the whole, features that are different from common design features of ordinary automobiles, and are obviously decoration. Moreover, the evidence presented by JLR can show that when the Evoque shape decoration was separated from JLR branding, the relevant public would still consider the Evoque shape decoration as a JLR product. The Evoque's shape decoration is already significant and has established a stable market relationship with JLR. The evidence in the case is sufficient to prove that the shape decoration of the automobile "Evoque" has a certain level of recognition and influence in China. Therefore, the appearance of the automobile "Evoque" in this case as a shape decoration conforms to the circumstance of "decoration with a certain influence" as prescribed in item (1), paragraph 1, Article 6 of the Anti-Unfair Competition Law of 2017. Accordingly, the decision of first instance is upheld.
With respect to copyright, the Beijing Intellectual Property Court stated, in this case, the specific expression of the appearance of the "Range Rover Evoque" car is still insufficient to meet the minimum requirements for the originality of art works, and the general public regards it more as an industrial product rather than a work of art. The court of first instance gave a detailed explanation from the perspective of independent creation and originality, and this court affirms this. The appearance of the "Range Rover Evoque" does not meet the originality standards that fine art works should possess, and therefore does not constitute fine art works subject to copyright protection.
The full text of the decisions are available here (Chinese only).

Back to All Resources