Beijing Treaty on Audiovisual Performances Comes into Force in China Today, April 28, 2020
The first international intellectual property treaty concluded in China and named after one of China's cities since the founding of the People's Republic of China, the "Beijing Treaty on Audiovisual Performances" ("Beijing Treaty") came into effect today, April 28, 2020.  Per the World Intellectual Property Organization (WIPO), "the Treaty is designed to help audiovisual performers – television and film actors, musicians, dancers, and others – many of whom live from job to job in precarious economic circumstances. The Treaty expands audiovisual workers' performance-related rights, which can translate into increased payments from retransmission – an especially critical benefit as many new productions are halted due to the COVID-19 pandemic."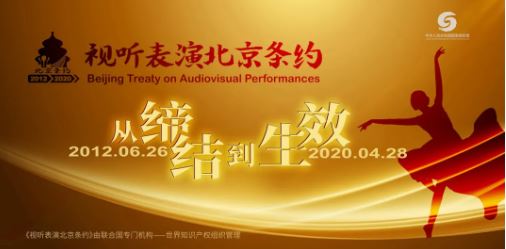 The Beijing Treaty grants performers four kinds of economic rights for their performances fixed in audiovisual fixations: (i) the right of reproduction;(ii) the right of distribution; (iii) the right of rental; and (iv) the right of making available. The Treaty also grants performers moral rights, that is, the right to claim to be identified as the performer (except where such an omission would be dictated by the manner of the use of the performance); and the right to object to any distortion, mutilation or other modification that would be prejudicial to the performer's reputation, taking into account the nature of the audiovisual fixations.
The Treaty provides that performers shall enjoy the right to authorize the broadcasting and communication to  the public of their performances fixed in audiovisual fixations. However, Contracting Parties may notify that instead of the right of authorization,they will establish a right to equitable
remuneration for the direct or indirect use of performances fixed in audiovisual fixations for broadcasting  or communication to the public.
There are 30 signatories to the Treaty with Indonesia being the final state to sign on to the Treaty on January 28, 2020.  While the Treaty enters into force in China, many states that signed have not yet ratified, including the United States and the European Union.  

Back to All Resources