China Releases Draft Amended Patent Law for Comment
China's National People's Congress has released Amendments to the Patent Law (Second Review Draft) for comment on July 3, 2020.  Comments are due August 16, 2020.  The draft amendment to China's patent law will significantly increase damages by introducing punitive damages, raising the statutory damages, and increasing the statute of limitations.  Major amendments to the patent law focus on designs, damages, patent term adjustments, patent term extensions and patent linkage.
Design Patents
Amended Article 2 redefines the definition of design to include partial design. Specifically, "designs mean, with respect to a product, new designs of the shape in whole or in part, pattern, or the combination thereof, or the combination of the color with shape and pattern, which are rich in an aesthetic appeal and are fit for industrial application."
Amended Article 42 amends the design patent term from 10 years to 15 years from filing. In contrast, the U.S. provides 15 years from the date of grant, which enables the U.S.  to join the Hague System for the International Registration of Industrial Designs, as the required design patent term for contracting parties is 15 years from registration per Article 17 of the Geneva Act of July 2, 1999.  The Hague System, of which most of North America and Europe are already contracting parties, provides for registering up to 100 designs in 74 contracting parties covering 91 countries, through the filing of one single international application.
Patent Damages
Patent damages should significantly increase with the proposed amendments to Article 71. Amended Article 71 introduces punitive damages of five times of actual damages for intentional infringement. The recently-passed Civil Code introduced punitive damages in Intellectual Property law cases and article 71 codifies the actual amount.  Article 71 also increases maximum statutory damages to 5 million RMB (~$707 thousand USD) from 1 million RMB, when actual damages are hard to prove.   Finally, per Article 71, the People's Court can order a defendant to provide evidence for damages calculation and if the defendant does not provide evidence or provides false evidence, the People's Court can rely on evidence provided by the plaintiff.
Patent Term Adjustment
Amended Article 42 adds for patent term extension due to delay in examination by the China National Intellectual Property Administration (CNIPA) reduced by delays by the applicant (e.g., presumably by taking an extension to reply to an Office Action).  Specifically, CNIPA should grant an invention patent within 4 year from filing and 3 years from request for examination.  Similarly, the U.S. Patent & Trademark Office (USPTO), per  35 U.S.C. §154, must similarly grant a patent within 3 years from filing (similar to China's 3 years from request for examination since this is not a separate process in the US). However, the USPTO must also issue a first Office Action or Notice of Allowance within 14 months of filing in addition to several other requirements enumerated in 35 U.S.C. §154.  Note that, as drafted, an applicant must request the adjustment and the adjustment is not automatically given as in the U.S.
Patent Term Extension
Amended Article 42 also provides for patent term extension due to regulatory delays in pharmaceutical approvals.  The new provision adds a maximum extension of 5 years subject to a maximum patent term of 14 years from market launch. Like patent term adjustments mentioned above, the patentee must request the extension.
Statute of Limitations
The statute of limitations of patent infringement is increased to three years from two years in Article 74.  This compares with six years in the U.S. per 35 U.S.C. § 286.
Patent Linkage
Amended Article 75 introduces a patent linkage system for pharmaceuticals. However, as Mark Cohen explained in his blog post, "this draft lacks an incentive provision for a generic to successfully challenge an innovator through granting of a first generic marketing exclusivity due to a successful challenge to the patents. "
Grace Period
Amended Article 24 provides for a 6-month grace period when an invention is "is publicized for the first time for public interest purposes in time of national emergency or exceptional circumstances."  The 6-month grace period for disclosure at certain exhibitions and conferences as well as non-consenting third party disclosures remain.
The text and comparison table can be found at the National People's Congress website here (Chinese) and at Mark Cohen's blog here (English).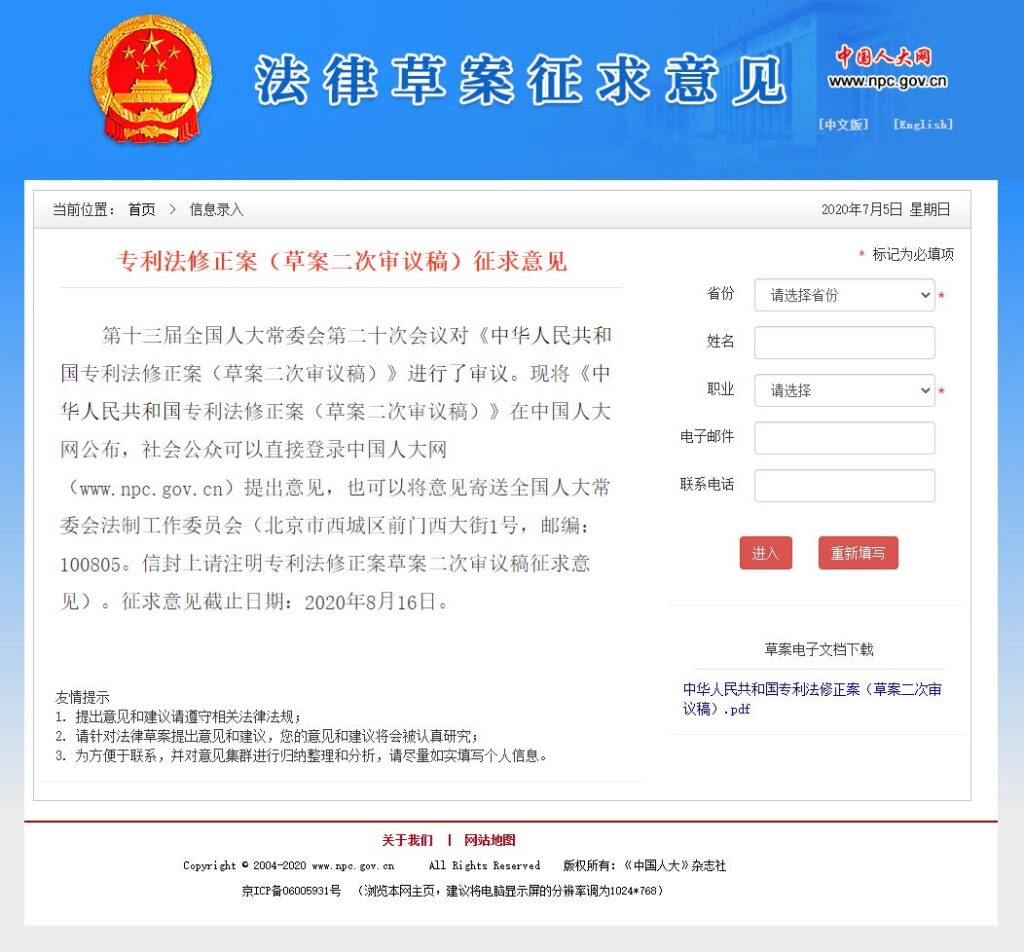 Back to All Resources