China's Academy of Military Medical Sciences' Patent Application on Gilead's Remdesivir Publishes
On February 4, 2020, the Wuhan Institute of Virology announced it applied for a patent for Gilead's Remdesivir, which shows promise in treating COVID-19.  The China National Intellectual Property Administration (CNIPA) has apparently published the application with publication number CN111265532A entitled "Use of substituted aminopropionate compounds in the treatment of 2019-nCoV infection." However, the applicant is the Academy of Military Medical Sciences instead of the Wuhan Institute of Virology (the Academy's research partner).  As first reported by 韩百科君, CNIPA is unlikely to allow the claims as published.
There are 6 claims with claims 1 and 2 being independent. Claim 1 reads:
1. Compounds represented by the general formula I, it's geometrical isomers thereof or pharmaceutically acceptable salts thereof and/or solvates thereof and/or hydrates thereof in the preparation of medicaments for the treatment of diseases or infections caused by the 2019 novel coronavirus (2019-nCoV)  (e.g., respiratory diseases such as simple infections such as fever, cough and sore throat, pneumonia, acute or severe acute respiratory infection, hypoxic respiratory failure and acute respiratory distress syndrome, sepsis and septic shock).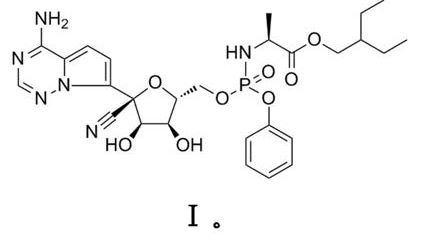 Claim 2 tried to claim Gilead's Remdesivir itself:
2. A pharmaceutical composition comprising a compound represented by formula I, its geometric isomers or pharmaceutically acceptable salts and/or solvates and/or hydrates thereof,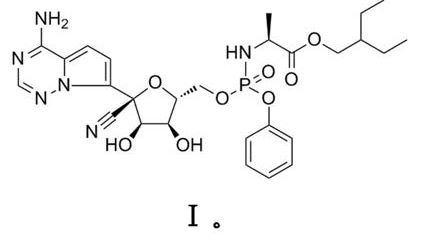 preferably, the pharmaceutical composition further comprises a pharmaceutically acceptable carrier or adjuvant, specifically, the pharmaceutical composition is a solid preparation, an injection, an external preparation, a spray, a liquid preparation, or a compound preparation.
However, the formula I is the same as in Gilead's published patent application CN108348526A entitled "Methods for treating arenaviridae and coronaviridae virus infections" making it unlikely the Academy's patent would fulfill novelty requirements.  For example, this excerpt from claim 61 of the patent shows the formula: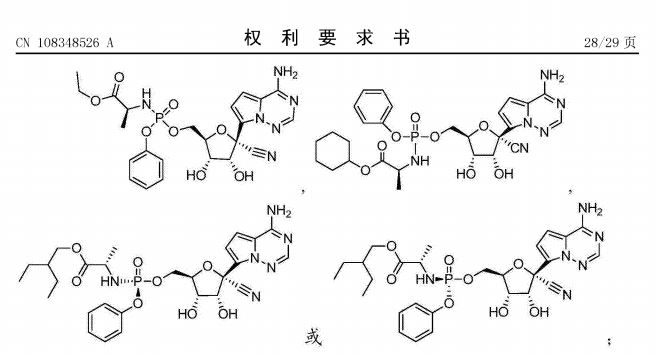 Accordingly, I suspect the Academy of Military Medical Sciences will eventually abandon this application.  It is unclear why the Academy filed this application in the first place but may have been in the hope of enabling a cross-licensing deal with Gilead instead of China potentially having to issue a compulsory license to the drug to Chinese manufacturers if Gilead wouldn't license the drug otherwise.

Back to All Resources