China's National People's Congress Passes Amendments to Copyright Law Increasing Damages
On November 11, 2020, China's National People's Congress approved amendments to the Copyright Law.  The amendments will become effective June 1, 2021.  Some of the highlights include punitive damages for intentional infringement, an increase in statutory damages, and an increase in civil fines for copyright infringement.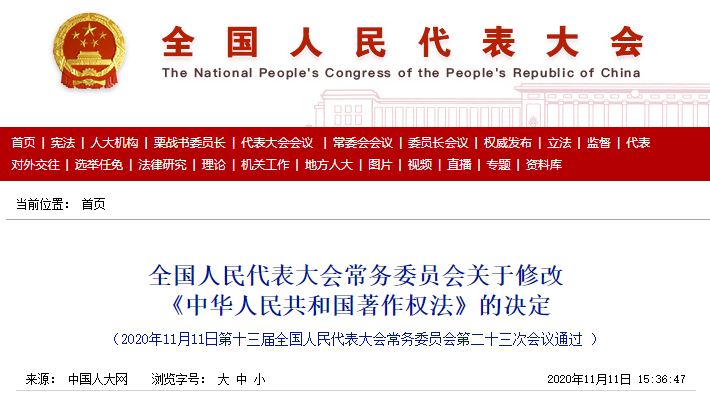 The newly amended law provides for quintuple damages for intentional infringement when the infringement is serious:
For the intentional infringement of copyright or copyright-related rights, and the circumstances may be serious, compensation may be up to 5 times of determined damages.
Further, minimum and maximum statutory damages are specified in the law:
If the actual loss of the right holder, the illegal income of the infringer, and the royalties are difficult to calculate, the people's court shall, based on the circumstances of the infringement, award compensation of not less than 500 yuan but not more than 5 million yuan.
Similar to the newly amended patent law, there is what might be considered a switch in the burden of proof regarding damages:
if the account books and materials related to the infringement are mainly in the hands of the infringer, it may order the infringer to provide the account books and materials related to the infringement; if the infringer does not provide, or provides false account books, materials, etc., the people's court may determine the amount of compensation by referring to the claims of the right holder and the evidence provided.
The Copyright Office also has the power to confiscate illegal income, destroy infringing products and equipment used to make the products and fine the infringer. The Copyright Office can:
order to stop the infringement, give a warning, confiscate the illegal income, confiscate and destroy infringing copies as well as the materials, tools, equipment, etc. mainly used to make the infringing copies. If the amount of illegal income is more than 10,000 yuan, a fine of one to five times the illegal business amount may be imposed concurrently; if there is no illegal business income or the illegal business income is difficult to calculate or is less than 50,000 yuan, a fine of less than 250,000 yuan may be imposed.
The full text of the changes can be found here (Chinese only).

Back to All Resources