China's New Civil Law Adds Right of Publicity
The Third Session of the 13th National People's Congress (NPC) voted and passed the "Civil Code of the People's Republic of China" on May 28, 2020. This law will come into effect on January 1, 2021.  Part IV of the law is dedicated to Personality Rights, which include portrait rights, which is similar  California's right of publicity and right of publicity for the deceased.  Portrait rights in China were previously protected under the General Principles of Civil Law and the new law provides significant clarification on these rights and also codifies existing case law.
Article 990 defines personality rights as "the rights of life, body, health, name, portrait, reputation, honor, privacy and other rights enjoyed by civil subjects." However, these rights cannot be waived, transferred or inherited per Article 992.  Even though there is no inheritance, a spouse, children and parents can enforce the deceased rights per Article 994.  This codifies existing law from the Supreme People's Court  case Zhou Haiying v. Shaoxing Yuewang Jewellery and Gold Co., Ltd., which held a close relative was entitled to sue for a violation of Lu Xun's portrait right after his death.  
Article 995 confirms that plaintiffs are entitled to compensation and injunctions for the violation of personality rights.  Article 996 adds that the compensation may include damages for mental anguish. Article 997 adds preliminary injunctions are available when when "a civil subject has evidence to prove that the perpetrator is or is about to commit an illegal act that infringes on his personality rights, and if he fails to stop it in time, his legal rights and interests will be irreparably damaged."
Article 1018 defines the right of portrait as "…image that can be recognized by a specific natural person reflected on a certain medium through video, sculpture, painting, etc." and gives natural persons "…the right to make, use, disclose or permit others to use their own portraits in accordance with the law."
Article 1019 expands on Article 995 by stating "it is forbidden to make, use or publish portraits of portrait right holders without the consent of the portrait right holders, except as otherwise provided by law." However, exceptions are provided in Article 1020 including personal use, art appreciation, education or scientific research, news, government use with the required scope of their duties, images of public environments where it is inevitable that people will be present, and public interest.
Articles 1021 and 1022 cover portrait right contracts and are favorable to the portrait right owner.  Per Article 1021, if there is a dispute in the meaning of a term, the explanation should favor the portrait right owner.  Article 1022 covers term of the contracts. If no term is specified, either party may cancel at any time but provide reasonable notice. If a term is specified, the portrait right owner can cancel the contract before the end of term as long as reasonable notice is provided.
Article 1023 states the right to name and voice are also covered similarly by this section IV of Personality Rights with respect to portraits.
The new Civil Law may have a favorable impact on famous foreigners looking to protect their rights in China.  For example, Bruce Lee's heir has recently sued a fast food chain for portrait right infringement and Michael Jordan has several long running disputes with Qiaodan Sports Co., Ltd. (Qioadan is the Chinese pronunciation of Jordan) over use of his name and likeness and recently won a victory on the trademark side.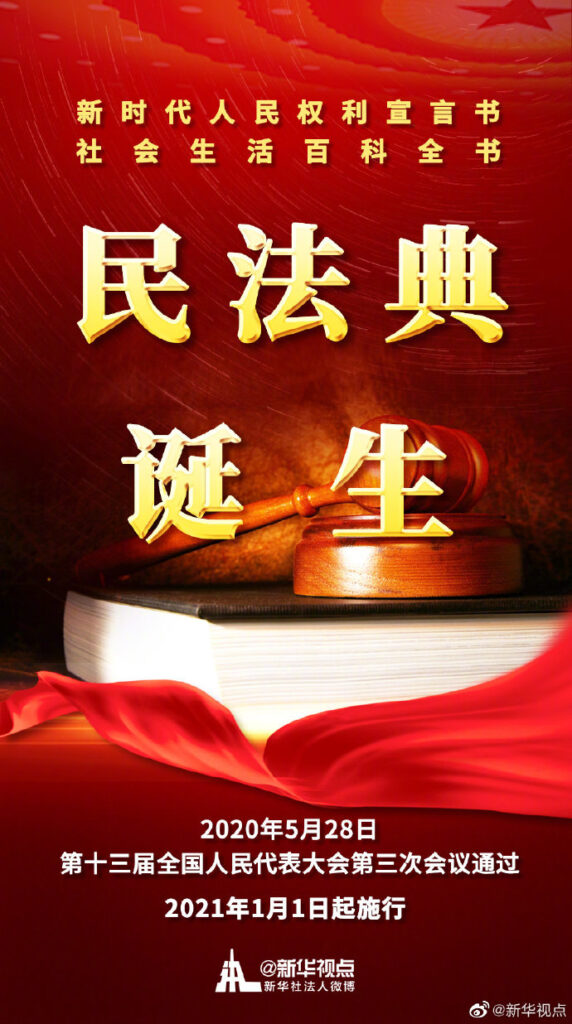 Back to All Resources