China's State Administration for Market Regulation to Establish List of Untrustworthy Entities That Have Intentionally Infringed Intellectual Property
Per Order of the State Administration of Market Regulation No. 44 entitled Measures for the Administration of Lists of Serious Illegal and Dishonest Acts Subject to Market Regulation (市场监督管理严重违法失信名单管理办法),  effective September 1, 2021, China's State Administration for Market Regulation (SAMR) will establish a list of untrustworthy entities that have intentionally infringed intellectual property , misappropriated trade secrets, committed unfair competition (frequently a cause of action in trademark infringement cases), filed abnormal (irregular) patent applications, maliciously submitted trademark applications (e.g., for squatting), and engaged in illegal patent and trademark agency activities (e.g., filing patent applications without a patent agency license).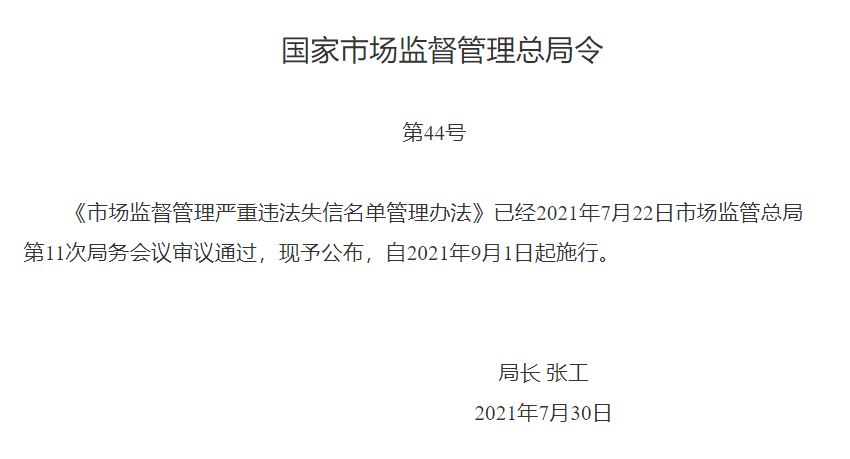 Article 9 reads, in relevant part,
Anyone who commits the following illegal acts that undermine the order of fair competition and disrupt the order of the market, and falls under the circumstances specified in Article 2 of these Measures, shall be included in the list of serious violations of untrustworthiness:
(1) Infringement of trade secrets, commercial slander, organization of false transactions, and other acts of unfair competition that seriously disrupt the order of fair competition;
(2) Intentionally infringing on intellectual property rights; submitting irregular patent applications or malicious trademark registration applications harming the public interest; engaging in serious illegal patent and trademark agency activities;
Article 2 referenced above states:
Where any party concerned violates any law or administrative regulation, has a serious nature, serious circumstance or relatively serious social harm, and is given any heavier administrative punishment by the market supervision and administration department, the market supervision and administration department shall, in accordance with the provisions of these Measures, list the party concerned in a list of serious violations of laws and dishonest acts, publicize it through the national enterprise credit information publication system, and implement corresponding management measures.

The term "heavier administrative punishment" as mentioned in the preceding paragraph includes:

(1) Imposing a fine on the basis of the discretion in administrative penalty and according to the principle of heavier punishment;

(2) Lowering its qualification level, and revoking its permit or business license;

(3) Restricting its production and business operation activities, ordering it to suspend production or business, ordering it to close down, or restricting its practice;

(4) Other heavier administrative punishments as prescribed by laws, administrative regulations and departmental rules.
Note that per Article 12, lack of intent is a defense against being included in the list.
Per Article 15, once on the list, the entity will be subject to more stringent licensing review, subject to more frequent inspections, etc.
Due process to defend against inclusion is provided in Article 13 :
A decision shall include the reasons, basis, warning of punishment measures, removal conditions and procedures, relief measures, etc. Before a decision on whether to list the entity in the list is made, the parties shall be informed of the reasons and basis for making the decision and the rights of the parties concerned according to law. The procedures of notification, hearing, service of legal documents and handling of objections shall be implemented together with the procedures of administrative punishment.
Appeals are provided for in Article 23.
Entities will remain on the list for three years per Article 21, but early removal is possible per Article 16 if the entity:
(1) Has consciously performed the obligations stipulated in the administrative penalty decision;
(2) Has taken the initiative to eliminate harmful consequences and adverse effects; and
(3) Has not received further severe administrative penalties from the SAMR. 
The full text (Chinese only) is available here.

Back to All Resources