China's Supreme People's Court Releases Patent Linkage Trial Provisions
In follow up to the joint National Medical Products Administration (NMPA) and China National Intellectual Property Administration (CNIPA) release of patent linkage implementation measures, China's Supreme People's Court released Provisions of the Supreme People's Court on Several Issues Concerning the Application of Law in the Trial of Civil Cases Concerning Patent Disputes Related to Drugs Applied for Registration (最高人民法院关于审理申请注册的药品相关的专利权纠纷民事案件适用法律若干问题的规定) on July 5, 2021.  Of note is that while the Implementing Measures specify a 9-month moratorium in marketing authorization for a generic while a challenge is instituted, these Provisions from the Supreme People's Court do not provide a corresponding deadline to conclude a trial within those 9 months.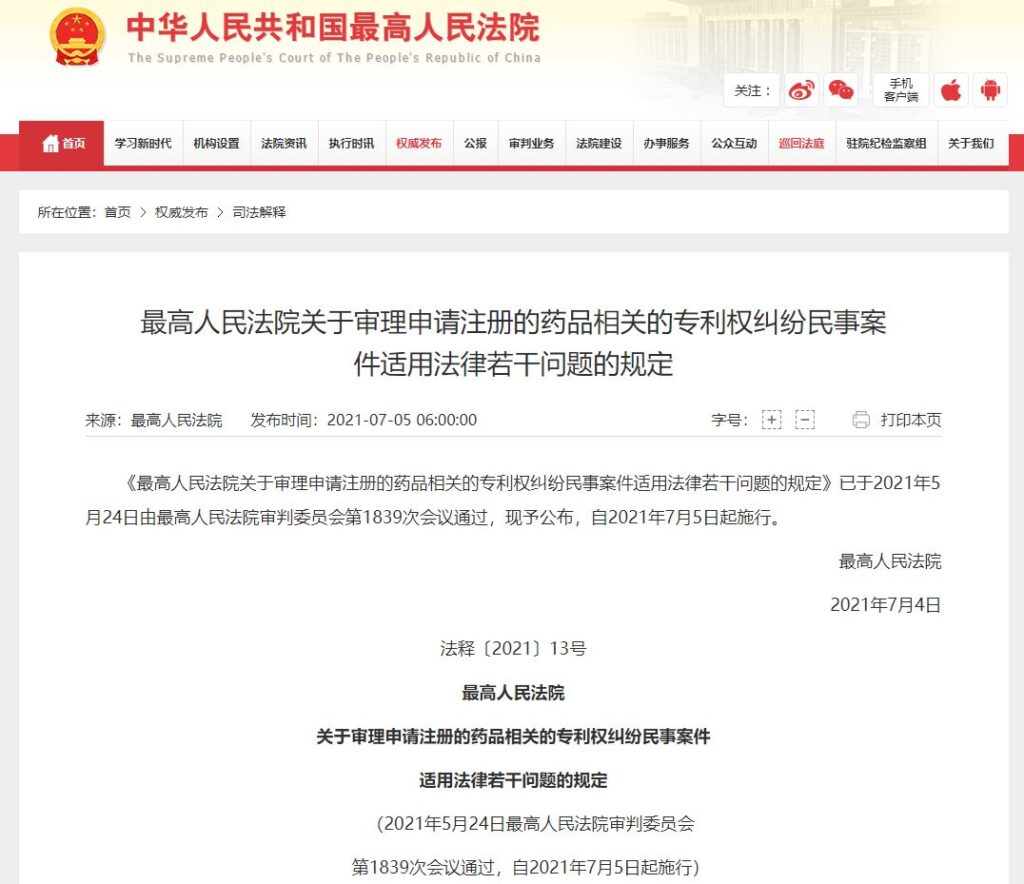 Per Article 2 of the Provisions, only patents registered on the Center for Drug Evaluation platform may be sued on. Further, interested parties in Article 76 of the Patent Law refers to the licensee of the patent and the holder of the drug marketing authorization.
Per Article 4, if the patentee or interested party doesn't file a lawsuit within the specified time per the implementing measures (i.e., 45 days from publication of a generic application), the generic applicant may file a declaratory action to request confirmation that the drug applied for does not fall within the protection scope of the relevant patents.
Per Articles 5 and 6, Courts will not suspend an action if a parallel administrative adjudication by CNIPA has been instituted or if an invalidation has been filed with CNIPA.
Per Article 7, generics can raise defenses of prior use (Article 75.2 of the Patent Law) or existing technology (Article 67 of the Patent Law).
Per Article 11, in a later patent infringement suit, res judicata will apply in that infringement determination should not be relitigated and instead any earlier ruling in a patent linkage lawsuit will generally apply.
As a side note, as pointed out by Mark Cohen of U.C. Berkeley, these Provisions were actually passed on May 24, 2021 but only released after the  joint NMPA/CNIPA release of their Implementing Measures.
The full text is available here (Chinese only).

Back to All Resources