New Balance Fails to Invalidate Chinese New Balance Trademark at Beijing Higher People's Court
In a decision dated February 9, 2021 and first reported by 知识产权界, New Balance has failed on appeal to invalidate a Chinese trademark that is a transliteration of its name. Specifically, New Balance had attempted to invalidate the mark 新百伦 (4100879 in class 25) to Guangzhou New Balance Enterprise Management Co., Ltd. (广州新百伦企业管理有限公司) first at the former Trademark Office of the State Administration for Industry and Commerce (now China National Intellectual Property Administration (CNIPA)), then at the Beijing Intellectual Property Court, and now on appeal at the Beijing Higher People's Court.  This contrasts with New Balance's earlier Chinese victory against New Barlun for the "N" logo.
This is just one trademark battle between New Balance and Guangzhou New Balance. Earlier, Guangzhou New Balance successfully sued New Balance for trademark infringement wining 98 million RMB and an injunction. The Guangzhou Intermediate Court's ruled that New Balance immediately stop using "新百伦" to mark and promote its products; compensate the plaintiff  98 million RMB (~$15 million USD); and publish an apologies on the New Balance (China) official website and on Tmall store websites.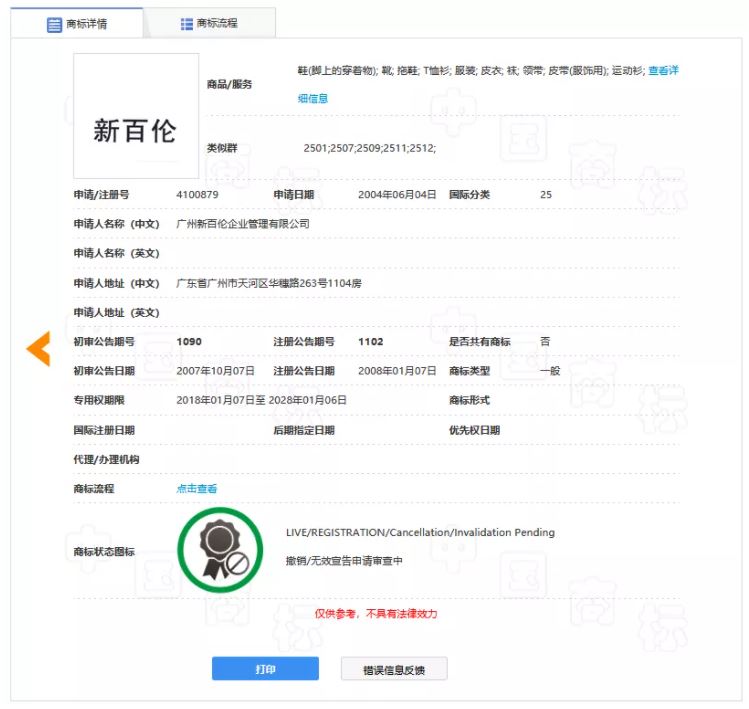 The "新百伦" trademark No. 4100879  was filed by Zhou Lelun on June 4, 2004 in class 25 for shoes, etc.  新百伦 is pronounced Xīn bǎilún, with Xīn meaning new and bǎilún being a transliteration of Balance.  In contrast, New Balance filed the "NEW BALANCE" trademark No. 175153 in English in class 25 for shoes, etc. on October 17, 1981, and was approved for registration on April 15, 1983. New Balance also filed for English-language "NEW BALANCE" trademark No. 749744 in class 25 for clothing, etc. on November 12, 1993, and was approved for registration on June 7, 1995. 
The plaintiff, New Balance, argued that before the trademark application by Guangzhou New Balance, New Balance and its affiliates used "新百伦" as a Chinese trade name and made it extremely well-known and influential.  The unique name of the company; after a long period of publicity and use, the "NEW BALANCE" trademark has become a well-known trademark used on footwear products. The disputed trademark is a Chinese translation of the "NEW BALANCE" trademark of New balance. This constitutes a similar trademark used on the same or similar products, the disputed trademark is a malicious imitation and preemptive registration of the previously used and well-known "new balance 新百伦及图" combination trademark of New Balance.
According to Zhou, the legal representative of Guangzhou New Balance, the disputed trademark was registered by Zhou Lelun on the basis of his earlier registered "Bai Lun" trademark. The registration and use are reasonable, and "新百伦" is not a transliteration of "NEW BALANCE".  There is no connection between the two; the "NEW BALANCE" trademark did not constitute a well-known trademark before the registration application date of the disputed trademark, and the disputed trademark is not a copy or imitation of the well-known trademark of New Balance, nor does it constitute a similar trademark. "新百伦" is not New Balance's prior trade name nor a well-known mark.
The Beijing Higher People's Court held that the disputed trademark and the combined trademark of "new balance 新百伦和图" are significantly different in text composition, sound, and overall visual effects. They do not constitute similar trademarks, and "新百伦" and "New Balance" and do not correspond with each other.  Accordingly, the Court upheld the earlier verdict.

Back to All Resources