Patent Challenger Seeks PTAB Jurisdiction over "Involved" Pending Applications
The AIA provides new post-issuance proceedings to challenge issued patents.  But can these challenges be used to stop related pending patent prosecution dead in its tracks?  One recent inter partes review petition requests just that and time will tell whether the PTAB takes control of the related applications.
Chi Mei Innolux Corp. (CMI) filed a petition for inter partes review of U.S. Pat. No. 6,404,480 on October 19, 2012.  The '480 patent is owned by Semiconductor Energy Laboratory Co., Ltd. (SELC).  SELC sued CMI for patent infringement in a suit styled Semiconductor Energy Laboratory Co., Ltd. v. Chi Mei Innolux Corp., et al., SACV12-0021-JST (C.D. Cal.), filed on January 5, 2012.
The other patents-in-suit in the litigation are U.S. Patents 7,876,413; 7,697,102; 7,956,978; 8,068,204; and 7,923,311.  CMI has indicated that it will be filing petitions for inter partes review of these other patents-in-suit as well, and CMI hopes to have the resulting PTAB trials consolidated with the PTAB trial instituted for the present '480 inter partes review.
The family of patents and applications is shown in the following graphic: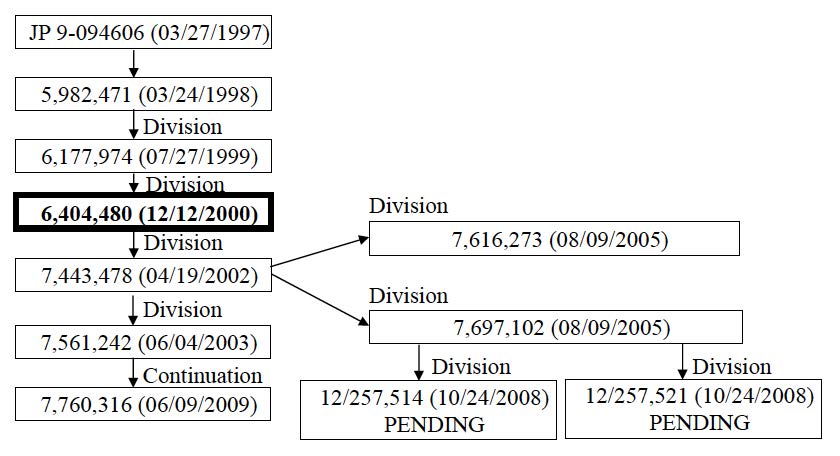 Things get very interesting when CMI identifies the 12/257,514 and 12/257,521 applications as "involved applications" and requests a stay of prosecution of these involved applications:
37 C.F.R. 42.3 conveys exclusive jurisdiction to the PTAB over every involved application and patent during the proceeding, as the Board may order. See 35 U.S.C. 6 (b), as amended, 35 U.S.C. 326(c), and Public Law 112–29, section 18. The term "proceeding" is defined by 37 C.F.R. 42.2 as a trial or preliminary proceeding. Rule 42.2 also defines the term "preliminary proceeding" as beginning with the filing of an IPR petition. To this end, the PTAB now has jurisdiction over the following involved applications. [see graphic above]

Divisional applications 12/257,514 and 12/257,521 are actively being prosecuted before Art Unit 2871. As the family of applications claiming priority to the '480 patent remain active, these applications may be utilized as a basis to present patentably indistinct claims, and, may, if allowed to continue, proceed to issuance prior to the determination of the PTAB in this IPR. The issuance of such indistinct claims during the pendency of this IPR is at least inconsistent with 37 C.F.R. 42.373(d)(ii), and, would provide an "end-around" the reasonable number of substitute claims that may be presented in this proceeding. As such, further USPTO processing of these proceedings may prejudicial to the Petitioner's interests and inconsistent with controlling PTAB rules. Petitioner respectfully submits that it is appropriate under the circumstances for the PTAB to suspend, sua sponte, further prosecution of the above noted applications, or at least require any further patent application filings, or claim changes be authorized by the PTAB prior to submission to the USPTO.
CMI is correct that the PTAB may acquire jurisdiction of involved patents and applications.  37 C.F.R. § 42.3 states:
(a) The Board may exercise exclusive jurisdiction within the Office over every involved application and patent during the proceeding, as the Board may order.

(b) A petition to institute a trial must be filed with the Board consistent with any time period required by statute.
Since "involved" means an application, patent, or claim that is the subject of the proceeding, it will be interesting to see whether the PTAB decides to order control of the pending applications as requested by CMI.
Creative attempts to use the AIA to challenge patents, such as this one, have only begun.  Many more will come.  The complexities of these challenges raise the stakes for patent owners.  They must now reconsider how they choose their patent counsel to make sure they understand not only how to make patent rights that will survive prosecution and litigation, but also rights that will survive reexamination and post-grant review proceedings.

Back to All Resources