Prosecution Bars and PTAB Practice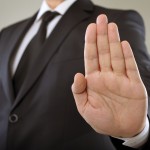 In an earlier post we explored many ways that reexamination differs from post-grant review, inter partes review, and covered business method review. The PTAB has been very clear that reexamination and AIA patent trials are very different.  For example, in ScentAir Technologies v. Prolitec, Inc. (IPR2013-00179 (JL)), the PTAB denied authorization for ScentAir to file a motion to disqualify Prolitec's counsel in an inter partes review based on a prosecution bar in a protective order from the parallel litigation (paper no. 9).
During the conference call, the PTAB received assurances from counsel for ScentAir that ". . . nothing in the district court's protective order expressly bars counsel from being counsel of record in an inter partes review before the Patent Trial and Appeal Board, although there is a 'prosecution bar' in the protective order prohibiting litigation counsel from drafting or amending claims while prosecuting an application before the U.S. Patent and Trademark Office."
The Board denied authorization for ScentAir to file a motion for disqualification:
The Board finds informational and key that the protective order at issue specifically bars litigation counsel from prosecution activities without mentioning litigation or trials before the Patent Trial and Appeal Board. An inter partes review is not original examination, continued examination, or reexamination of the involved patent. Rather, it is a trial, adjudicatory in nature and constituting litigation.
In the future, litigation counsel will have to be more detailed about what activities are subject to a prosecution bar to avoid confusion about whether counsel in the district court litigation may participate in trials before the PTAB.

Back to All Resources