Supreme Court Hears "Replicant Soy Bean" Appeal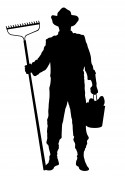 Since I did a perfectly concise, coherent even, post when the Supreme Court granted cert. in Monsanto v. Bowman back in October, I don't really have a lot to add. The bloggers and news services have paid a lot of attention to this appeal as if, somehow, the fate of transgenic plants was in the balance but, from what I've read of the oral arguments, Monsanto has the upper hand. Oddly, this appeal called to mind Aro Mfg. Co. v. Convertible Top Replacement, 366 U.S. 336 (1961), which involved "repair" of a fabric convertible top vs. "replacement" of the entire mechanism as well as the fabric. The Supreme Court found in favor of the defendant, but the ruling would provide ample precedent to hold that Bowman in fact infringed when he replicated a second generation of Monsanto's glyphosate-resistant soy beans without a license:
"The decisions of the Court require the conclusion that reconstruction of a patented entity, comprised of unpatented elements, is limited to such a true reconstruction of the entity as to 'in fact make a new article', after the entity, viewed as a whole, has become spent. In order to call the monopoly, conferred by the patent grant, into play for a second time, it must indeed, be a second creation of the patented entity….."
Indeed, that sounds a lot like what Farmer Bowman did when he harvested the first generation of soy bean seeds that he got from the commodity dealer and replanted them. Of course, Chakrabarty tells us, if little else, that patentable subject matter can include "living things" and J.E.M. Ag Supply affirmed that such things include plants (some animals have been patented as well). Just as a footnote to the proceedings, I obtained the first patent on glyphosate resistant corn for DeKalb Genetics Corp. (acquired by Monsanto), Lundquist et al., U.S. Pat. No. 5,554,798. It expires in September.

Back to All Resources