Therasense In Action – Warren Woessner To Speak At AIPLA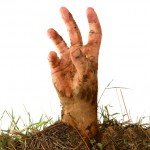 On Saturday, October 27th, I will one of the speakers in the Closing Plenary Session of the Annual AIPLA Meeting in Washington, DC. Since I was assigned to do part of the "Ethics" track, I will be speaking on post-Therasense Fed. Cir. opinions. Is the defense of inequitable conduct a limping zombie that can be easily avoided if you don't just run into a corner and scream, or does it still have fangs? Also speaking on "Ethics – Privacy" will be Prof. Paul Ohm from the University of Colorado School of Law. David H. Harper will sum up the year in copyrights and trade secrets, Steven J. Wadya will handle trademark law developments, and Mark Lemley of Stanford will do the patent law wrap-up.  Moderator Mary Kocialski of Oracle will try to keep us on schedule (Good Luck!).
From a biotech perspective, probably the most interesting session will be the Educational Session sponsored by the Biotechnology/IP Practice in Europe and (I think) the Chemical Practice Committees from 330-530 on Thursday that will – thoroughly, I am sure – discuss the "antibody exception" to the written description requirement. Apparently, reports of its demise in the wake of Ariad were untimely. I particularly anticipate learning the USPTO perspective. Now, how about a session on patenting diagnostic assays post-Prometheus and Myriad?

Back to All Resources