U.S. Trade Representative Names 5 Chinese Online Markets in 2020 Review of Notorious Markets for Counterfeiting and Piracy
The United States Trade Representative (USTR) released their annual Review of Notorious Markets for Counterfeiting and Piracy for 2020 on January 14, 2021 and included five mainland Chinese online markets in the online market section of the list.  Markets on the list are reported to engage in or facilitate substantial trademark counterfeiting and copyright piracy.  There is no penalty for being listed but the list has been used to encourage foreign companies and countries to crack down on piracy and counterfeiting.  The five Chinese markets listed are returnees: DHGate (敦煌网), Pinduoduo (拼多多), Taobao (淘宝网) (owned by Alibaba (阿里巴巴集团控股有限公司)), and newcomers: Baidu Wangpan (百度网盘), and Weidian (微店).  The report also listed many physical markets located in China notorious for selling counterfeit goods.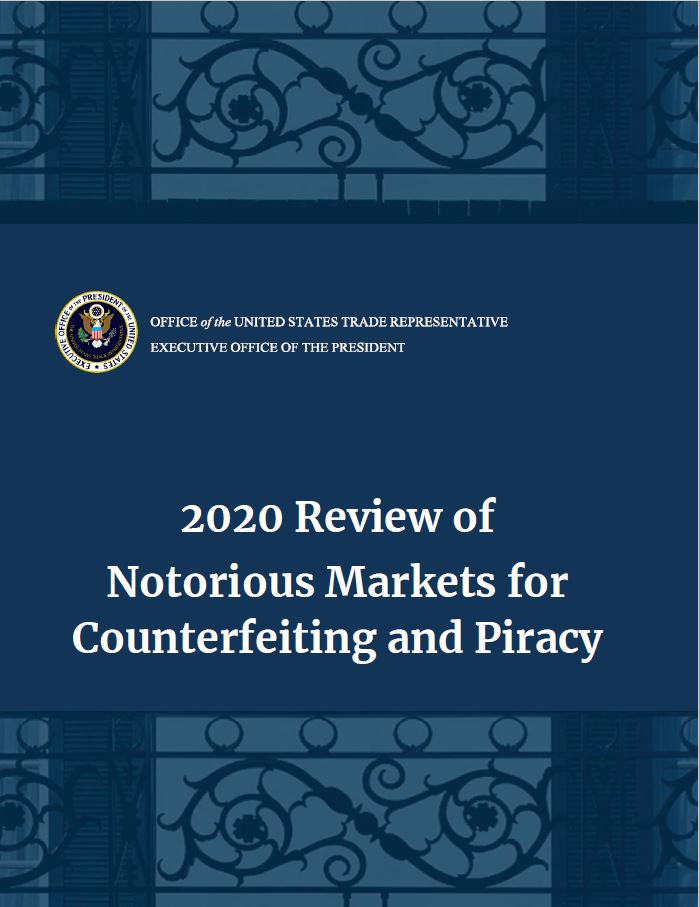 BAIDU WANGPAN
Per the USTR, "this cloud storage service is operated by Baidu, the largest search-engine provider in China. Users of this service are able to share links to files stored on their accounts to other users, and according to right holders, infringers widely share links to pirated movies, TV shows, and books stored on Baidu Wangpan. While right holders report some cooperation from Baidu in recent years and Baidu provides some tools for taking down unauthorized motion picture and television content, takedown times are reportedly lengthy, and right holders often have to follow-up with Baidu to ensure that pirated content does not reappear on the platform. Right holders also raise concerns that they are required to submit thousands of infringement notices to remove multiple instances of a single piece of pirated content, as the platform has no proactive procedures in place to detect pirated content. "
DHGATE
Per the USTR, "DHgate is the largest business-to-business cross-border e-commerce platform in China with 31 million registered buyers and 32 million products for sale. Over 2 million Chinese merchants, many of which are small- and medium-sized enterprises, sell their products on the platform. During the past year, DHgate reported improving its image recognition system, increasing the number of inspectors who manually review listings for suspected counterfeits, and improving its seller vetting system to stop re-registration of banned sellers. However, right holders continue to find high volumes of counterfeit goods on DHgate. While right holders praised the responsiveness of DHgate to takedown requests, they also report encountering repeat violations by the same sellers on numerous occasions. Right holders are particularly concerned by DHgate's reluctance to provide information on counterfeit sellers to enable follow-up investigations."
PINDUODUO
Per the USTR, "Pinduoduo, a "social commerce" app, is now China's second largest e-commerce platform as measured by the number of users. Over the past few years, Pinduoduo has implemented industry-standard anti-counterfeiting tools, processes, and procedures, and has launched some innovative anti-counterfeiting programs. However, the significant proliferation of counterfeit goods reported on the platform, even for brands that participate in Pinduoduo's Brand Care Program, evinces the need to improve the effectiveness of the tools or close the gaps in their implementation. Right holders continue to convey that, overall, Pinduoduo is a platform that is moving in the right direction but stress that the high volume of counterfeit products must be reduced."
TAOBAO
Per the USTR, "owned by Alibaba Group, Taobao is one of China's largest e-commerce platforms. Taobao has been identified as a notorious market since 2016 in response to significant right holder concerns about counterfeit goods being openly sold on the platform. Since then, Taobao has continued to improve its notice-and-takedown mechanisms, introduce new technologies to automatically identify infringing images, and expand its outreach to small and medium-sized enterprises. However, right holders again report that the number of counterfeit products remains stubbornly high. Right holders recognize the improved takedown times, but they remain concerned about repeat infringers on Taobao, the strict criteria for right holders' takedown requests when compared to other platforms, and the lack of transparency regarding filters and other proactive anti-counterfeiting measures."
WEIDIAN
"Weidian is an e-commerce platform that allows individuals to open storefronts on its mobile app and WeChat Mini Program. It claims that over 80 million stores have been registered on its platform, and boasts over 100 million customers. According to right holders, both the volume and proportion of counterfeits on this platform is so high that it can be difficult to find non-counterfeit products. Product listings are allowed to use words such as "yuandan," a Chinese term indicating that the product is made using the same materials and manufactured at the same facilities as genuine branded items, but without authorization from the brand owner. Weidian is reportedly responsive to some takedown requests from right holders, but, unlike many e-commerce platforms, performs little seller vetting and does not have proactive anti-counterfeiting tools or programs."
The full report is available here.

Back to All Resources