Virtual In-House IP Counsel Program
Introducing Schwegman's new Virtual In-House IP Counsel Program. This new program was developed in response to the increasing need of our clients for in-house IP counsel support on a temporary or fractional share basis.
Who:  Virtual in-house IP counsel are all attorneys with distinguished experience working as in-house IP counsel for high technology companies. Many are former chief or senior patent counsels for some of America's most prestigious technology companies. Clients range from emerging growth companies that do not yet have any in-house counsel, to large corporations with well-established IP groups.
What: Virtual in-house IP counsel fulfill a number of needs of corporate legal departments, including but not limited to: temporarily staffing open positions until they are filled, providing part-time on-site support for critical IP functions, staffing short duration projects requiring in-house or other specialized expertise, for instance handling an integration process or setting up a new invention disclosure harvesting process, and covering for attorneys out on family leave or for other reasons on a short term basis. 
Where:  Virtual in-house IP counsel typically work on site for a client, but sometimes remotely, and are available by e-mail or phone as needed when not on-site.
How:  Virtual in-house IP counsel work for corporate clients on a full time or part time temporary basis, for durations typically ranging from a few months to up to two years. Because the corporate client commits to a substantial block of the virtual counsel's time, it is more economical than hourly billing. The virtual in-house IP counsel agree to be on-site and on-call, at a minimum, for the number of hours agreed upon with their client. These counsel can all perform the typical duties of an in-house IP counsel, but, as a rule, do not draft patent applications, although they will review and supervise patent prosecution. Virtual in-house IP counsel are contracted to customers independently of the Schwegman firm, so counsel are free to act independently of the firm.
Typical Engagements:
Provide in-house IP counsel services on a fractional basis
Managing ongoing IP litigation matters
Managing prosecution on ongoing basis
Serve on patent committee to assist in reviewing and selecting disclosures for patenting
Set up internal IP processes or department
Assist with strategic IP deals such as major cross-licenses
Assist in selecting permanent in-house IP counsel
Supervise large product roll outs or freedom to operate projects
Prepare a company for a sale or funding round
Interested in learning more?  Join our "IP Punch List" Webinar Series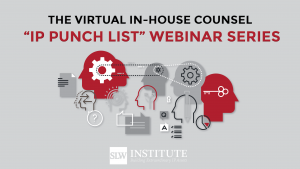 Join our complimentary bi-weekly webinar series aimed to provide valuable insight on how an In-house counsel can align your business and IP strategies. In this series, we will dive into the top technology landscapes, the different IP pitfalls that each may face, and provide you with an "IP Punch List" as a best practices guide.