Compare US and EPO Practice in Upcoming Webinars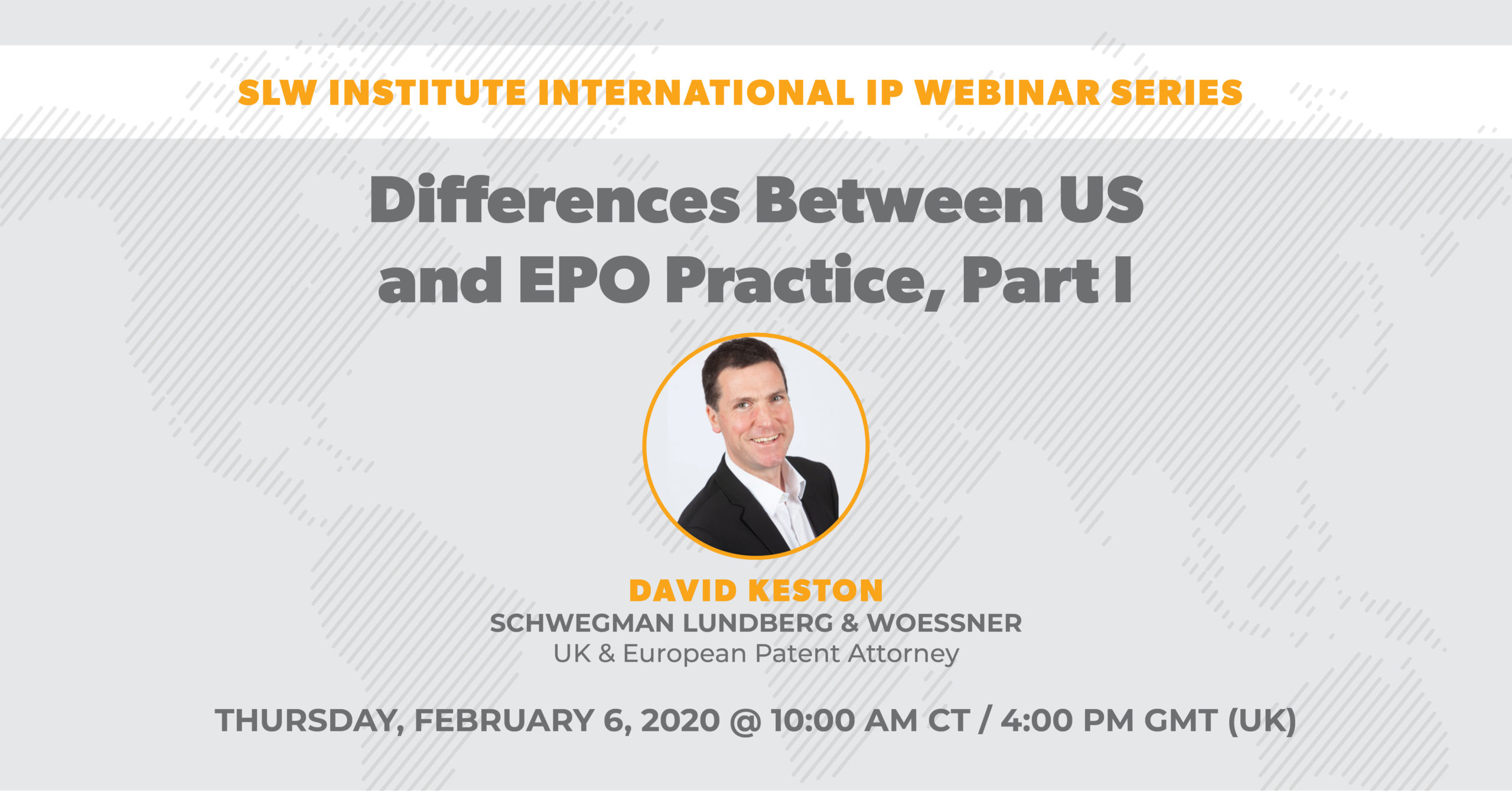 How does European patent practice compare to practice in the United States? Find out in the next two installments of the SLW Institute's International IP webinar series. On Thursday, February 6 at 10 a.m. CT, David Keston will present, "Differences Between US and EPO Practice, Part I." Join us for this complimentary webinar – and then join us again for Part II, scheduled for February 20.
David Keston is a UK Chartered Patent Attorney and European Patent Attorney in Schwegman's UK office. David has a joint honours degree in Theoretical Physics and Mathematics from the University of St. Andrews, and a doctorate in Plasma Physics from the University of Glasgow for research into equal-mass plasmas. He began a career in patents in 1997. David has worked as an Examiner at the UK Patent Office, in-house with the legal functions at Siemens (UK) and Vodafone Group, and in tier 1 private practice patent attorney firms.
In-house, David managed a sizeable patent portfolio, oversaw the migration of legacy filing and records systems to web-based services and had responsibility for providing advice on intellectual property matters and patent protection to internal clients distributed across the globe.
In his private practice roles, David has worked with several large multinationals, SMEs and academia alike. David has gained wide experience of original drafting and prosecution of International, European, UK and US patent applications in computer networks, imaging, photonics, telecommunications systems (xDSL, LTE, HSPA, UMTS, GPRS, Software Radio), as well as consumer electronics and mechanical subject areas. David has also drafted and prosecuted patent applications related to graphical user interfaces, touchscreen technologies, digital photography, Video on Demand and broadcast technology (satellite and terrestrial), signal processing, cryptography and digital rights management.
Previous webinars in the International IP webinar series include, Grant and Validation Process for EPO Patents and (E)U Got the Look: Design Protection in Europe.
Sign up today for "Differences Between US and EPO Practice, Part I."
Click here to register.
Back to All News