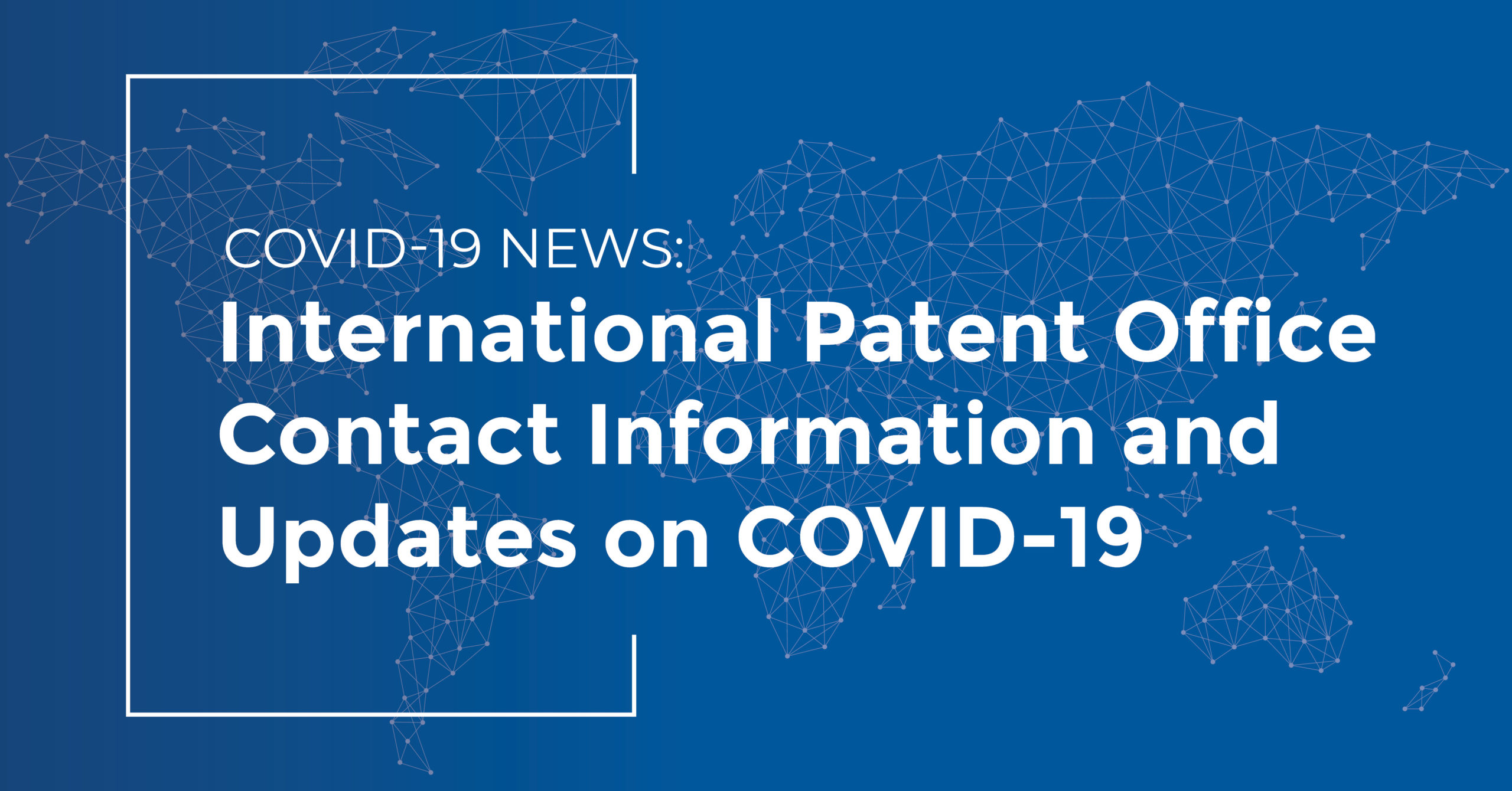 To help you navigate these challenging times, we have assembled a list of many international patent offices. On this list, you will find links to world patent office contact information and websites. You will also find links to COVID-19 updates (if available) for many countries. In addition to links for individual countries, we have also included links to the websites for the European Patent Office, European Union Intellectual Property Office, and the World Intellectual Property Office. Additional countries and links may be added in the near future. You can also view Schwegman's operational readiness plan here.
06 April 2020 Update
Among other updates, The European Patent Organisation (EPO) has announced that time limits expiring on or after 15 March 2020 are extended until 17 April 2020. Read more here. 
The Japan Patent Office (JPO) announced that they will provide different relief measures for time limits designated by the JPO (Designated time limits) and time limits prescribed in the law or rules (Statutory time limits). Read more here. 
31 March 2020 Update
The Korean Intellectual Property Office (KIPO) has announced that it will extend deadlines until April 30, 2020.
The Canadian Intellectual Property Office (CIPO) has extended deadlines to May 1, 2020. Read more here. 
30 March 2020 Update
According to the Announcement No. 350 of the China International Intellectual Property Administration (CNIPA), all the official deadlines before CNIPA, except for the time limit for claiming priority, for grace period of not losing novelty, for bringing a law suit for patent infringement and the expired term of patent rights, could be restored if they have been missed due to the COVID-19 outbreak occurred in the applicant's, patentee's or his patent attorney's location.
Please note that the time limit for claiming priority could not be restored. If you have a patent application to be filed in China via Paris Convention route, it shall be filed in China before 12 months (for patent and utility model application) or 6 months (for design application) from the earliest priority date. While for a patent application to be filed in China via PCT route, the missed deadline for entering Chinese national phase could be restored, even after the expiration of 32-month from the earliest priority date.
For seeking the force majeure relief, the patent applicant or patentee needs to make a restoration request and complete the relevant formalities without paying official fees. Meanwhile, the patent applicant or patentee needs to state the reason therefor and provide the related evidence produced in his jurisdiction.
29 March 2020 Update
On March 24, 2020, the Ministry of Home Affairs also issued an order for lock down of all establishments pan-India except for those providing health and essential services. The lock down started from March 25, 2020 and will remain in force 21 days from its commencement. Consequently, all IP Offices in India are now closed from March 25, 2020 and will reopen on April 15, 2020, if the lock down order of the government is lifted. Read more here.
27 March 2020 Update
The United Kingdom Intellectual Property Office (UKIPO) is declaring 24 March 2020 and subsequent days until further notice to be interrupted days. Read more here. 
South Africa has implemented a 21 day national lockdown to combat the spread of COVID-19. The lockdown begins on Friday 27 March and is scheduled to end on 16 April. As a result, the Companies and Intellectual Property Commission (CIPC) has announced that the Patents and Trade Marks Office will be closed from 26 March until 30 April. Read more here. 
Argentina
National Institute of Industrial Property (INPI)
Contact Details
Website
COVID-19 Information
Austria
Austrian Patent Office
Contact Details
Website
Brazil
National Institute of Industrial Property
Ministry of Economy (INPI)
Contact Details
Website
COVID-19 Information
Canada
Canadian Intellectual Property Office
Contact Details
Website
COVID-19 Information
Chile
National Institute of Industrial Property
Ministry of Economy
Contact Details
Website
COVID-19 Information
China
China National Intellectual Property Administration (CNIPA)
Contact Details
Website
Dominican Republic
National Office of Industrial Property
Contact Details
Website
COVID-19 Information
European Patent Organisation (EPO)
Contact Details
Website
European Union Intellectual Property Office (EUIPO)
Contact Details
Website
COVID-19 Information
Finland
Finnish Patent and Registration Office (PRH)
Contact Details
Website
France
National Institute of Industrial Property
Contact Details
Website
COVID-19 Information
Germany
German Patent and Trade Mark Office (DPMA)
Contact Details
Website
Greece
Patent Office
Hellenic Industrial Property Organization (HIPO)
Contact Details
Website
Hungary
Hungarian Intellectual Property Office (HIPO)
Contact Details
Website
COVID-19 Information
Iceland
Icelandic Intellectual Property Office (ISIPO)
Contact Details
Website
COVID-19 Information
India
Office of the Controller-General of Patents, Designs and Trademarks
Department of Industrial Policy Promotions
Ministry of Commerce and Industry
Government of India
Contact Details
Website
COVID-19 Information
Ireland
Intellectual Property Unit
Department of Business, Enterprise and Innovation
Contact Details
Website
COVID-19 Information
Israel
Israel Patent Office
Ministry of Justice
Contact Details
Website
COVID-19 Information
Italy
Directorate General for the Protection of Industrial Property
Italian Patent and Trademark Office
Ministry of Economic Development
Contact Details
Website
COVID-19 Information
Japan
Japan Patent Office (JPO)
Ministry of Economy, Trade and Industry (METI)
Contact Details
Website
COVID-19 Information
Kuwait
Ministry of Trade and Industry
Trademarks and Patents Department
Contact Details

Malaysia
Intellectual Property Corporation of Malaysia (MyIPO)
Contact Details
Website
COVID-19 Information
Mexico
Mexican Institute of Industrial Property
Contact Details
Website
COVID-19 Information
Netherlands
Netherlands Patent Office
Netherlands Enterprise Agency
Ministry of Economic Affairs
Contact Details
Website
COVID-19 Information
New Zealand
Intellectual Property Office of New Zealand (IPONZ)
Ministry of Business, Innovation and Employment
Contact Details
Website
COVID-19 Information
Norway
Contact Details
Website
COVID-19 Information
Peru
National Institute for the Defense of Competition and Protection of Intellectual Property (INDECOPI)
Presidency of the Council of Ministers (PCM)
Contact Details
Website

Philippines
Intellectual Property Office of the Philippines
Contact Details
Website
COVID-19 Information
Republic of Korea
Korean Intellectual Property Office (KIPO)
Contact Details
Singapore
Intellectual Property Office of Singapore (IPOS)
Contact Details
Website
COVID-19 Information
South Africa
Companies and Intellectual Property Commission
Department of Trade and Industry (CIPC)
Contact Details
Website
COVID-19 Information
Spain
Spanish Patent and Trademark Office O.A.
Ministry of industry, trade and tourism (OEPM)
Contact Details
Website
COVID-19 Information

Sweden
Division of Intellectual Property and Transport Law
Ministry of Justice
Contact Details
Website
COVID-19 Information

Switzerland
Swiss Federal Institute of Intellectual Property
Contact Details
Website
COVID-19 Information
United Arab Emirates
International Center for Patent Registration
Ministry of Economy
Contact Details
Website
United Kingdom
Intellectual Property Office
Contact Details
Website
COVID-19 Information
United States of America
United States Department of Commerce
United States Patent and Trademark Office (USPTO)
Contact Details
Website
COVID-19 Information
World Intellectual Property Office
Contact Details
Website
COVID-19 Information

Back to All News