Join Us for November 7 MedTech Webinar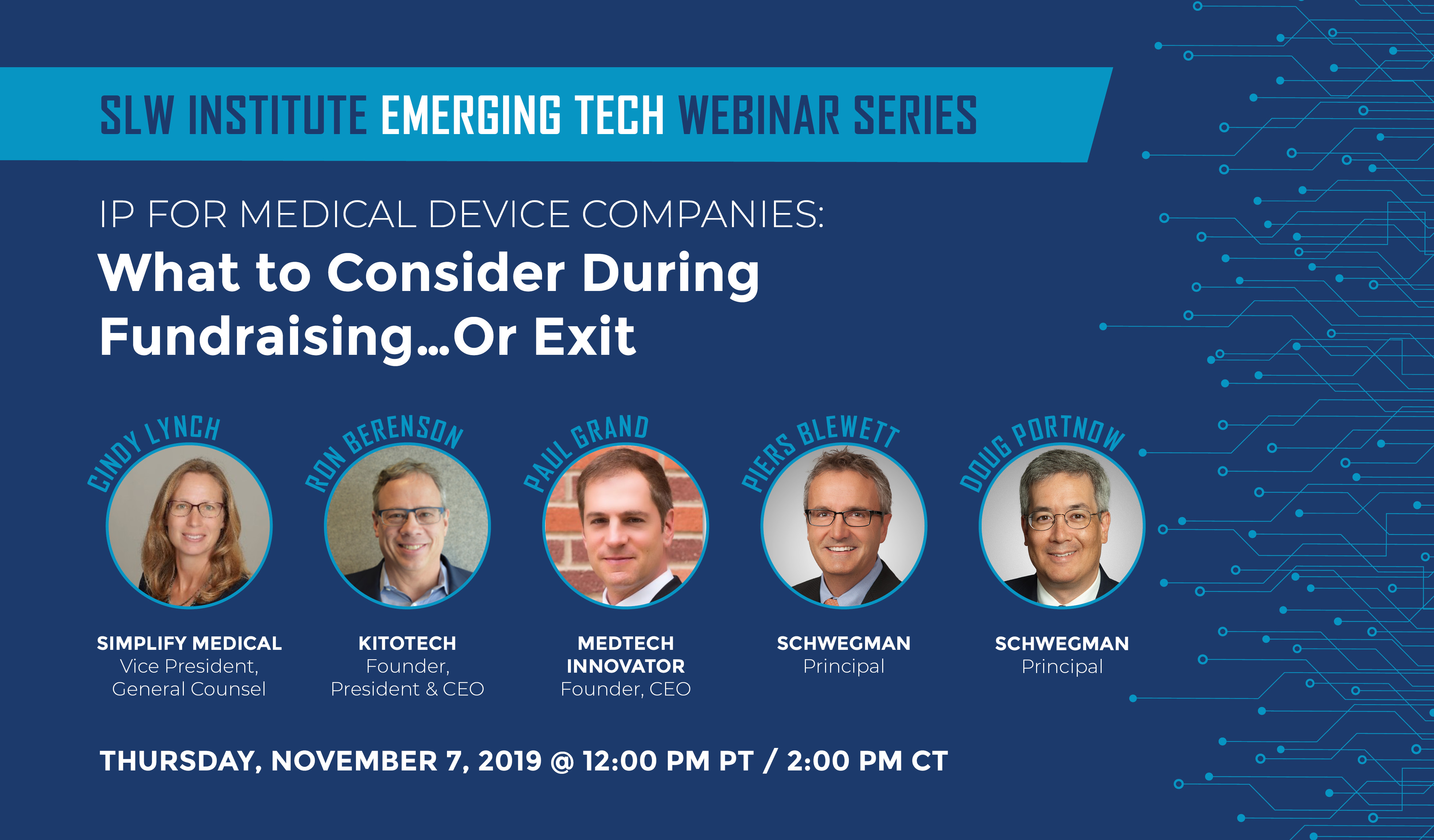 When medical device companies conduct fundraising or plan an exit strategy, there are important IP issues to be considered. In the first installment of Schwegman's Emerging Tech webinar series, three distinguished speakers from different backgrounds will address these matters. An entrepreneur, an investor and an attorney will discuss, how do companies decide what IP to pursue? And how important is IP? The webinar, entitled, "IP for Medical Device Companies: What to Consider During Fundraising … Or Exit," takes place on Thursday, November 7 at 12 p.m. Pacific/2 p.m. Central. Schwegman is pleased to welcome guest panelists Paul Grand, Ron Berenson and Cindy Lynch. The discussion will be moderated by Schwegman principals Piers Blewett and Doug Portnow.
The guest panelists have a wealth of experience to draw from as they answer moderators' questions:
Paul Grand is the founder and CEO of MedTech Innovator, the medtech industry's global competition and accelerator, with a mission to improve the lives of patients by accelerating the development of startups transforming the health care system. He has an extensive global network in transformative medical innovation.
Cindy Lynch is Vice President and General Counsel at Simplify Medical, Inc. She is an intellectual property attorney with over 20 years' experience working with medical device startups. Cindy has been in-house IP counsel to several medical device start-ups including Conor Medsystems (drug delivery stents), Moximed (orthopedic joint unloading), Simplify Medical (artificial intervertebral discs) and Elixir Medical (resorbable stents).
Ronald Berenson, MD is President and CEO of KitoTech Medical, Inc. He is a serial entrepreneur who has founded and led several successful medical device and biotech companies, including two, CellPro (CPRO) and Xcyte Therapies (XCYT), that were NASDAQ listed. Other companies that he has founded include Fe3, which is developing a device for transdermal iron delivery, and two cancer biotech companies, Compliment and HemaQuest. He is also a leading expert in drug and device development and has played a major role in commercializing medical device products.
The Emerging Tech webinar series helps listeners stay on top of important issues in some of today's most fascinating fields.
Back to All News