Lea Westman Helps UST Moot Court Build a Legacy of Excellence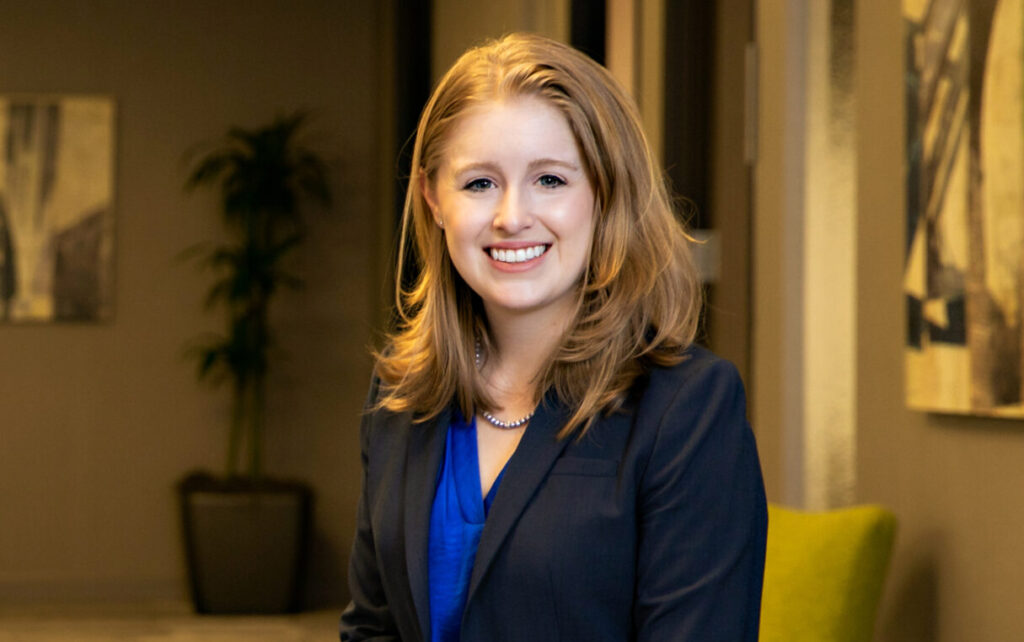 "All attorneys need to be able to speak about the cases they are working on, and they need to be able to advocate for their clients," Schwegman patent attorney Lea Westman explains. "It may be in a conference room instead of a courtroom, but they're going to need to think on their feet and have real conversations about the case." Those are just some of the skills Lea's students learn in the intellectual property moot court she teaches at the University of St. Thomas School of Law. Lea is an adjunct professor at St. Thomas, where she coaches the AIPLA Giles Sutherland Rich Moot Court Competition. In 2021, her students won the MIPLA Cup, were finalists in the AIPLA Midwest Regional Tournament, and semi-finalists in the National AIPLA Tournament. This year's team consisted of Erin Herdeman and Jessica Hughes, coached by Lea Westman, Lee Bennin (HKM Law Group) and Adam Szymanski (Patterson Thuente).
Building a Legacy
With Lea's leadership, the St. Thomas IP moot court team has now made four consecutive appearances at nationals. Lea, a University of St. Thomas School of Law alumna, was approached in the spring of 2017 by another graduate, who had previously coached the team. Aware that moot courts are often taught for a year or so by recent alumni, Lea agreed to take on the role for a year. Together with two other coaches, she jumped in with both feet. Benefiting from her organizational skills and dedication, the team had great success. "Our team went to the regional tournament, advanced all the way to the final round and won, which sent us to nationals," Lea describes. The top two teams in the region advance to nationals, which the St. Thomas IP team did for the first time that year. "We competed against very prominent schools at nationals, schools with quite a bit of name recognition." Her students also won the award for Best Brief that year.
Lea and her students were so motivated to succeed that one of her students returned to the same moot court the next year and asked her to come back as coach. Lea asked Adam Szymanski to coach as well, and their strengths complement each other: "We make a good team." Each year since then, her students have advanced to nationals. The last two years, her students have reached semifinals at nationals.
Hard Work and Practical Skills
This level of success requires considerable time and energy. First, to join a moot court team at the University of St. Thomas School of Law, students need to audition. "They do an intramural competition and submit an application," Lea explains. "Students are selected for each moot court. The IP moot court team is one of several."
The yearlong course builds both writing and speaking skills. "In the fall, students work on the writing portion of the moot court," Lea describes. "They do research and draft full appellate briefs for each side. Then in the spring they work on the oral advocacy program. In this portion, students have six weeks of two practices a week. At almost every practice they run through their whole appellate argument. Patent attorneys from firms in town sit in as guest judges. Judges can interrupt at any time with questions. Students need to think on their feet and know the law. Students learn highly useful skills that can benefit them long term."
The Importance of Community
The moot court guest judges play an important role in both the students' development and in the St. Thomas community. About 20 guest judges sit in at the IP moot court practices each year. The first year Lea coached, it was a challenge to recruit enough judges. Four years later, attorneys in the community were calling her, looking for opportunities to judge.
 "A couple guest judges had such a great experience judging at St. Thomas that they now teach a class there," Lea remembers. "The moot court plays a strong role in building an IP presence at St. Thomas.
 "It's a huge community effort. That community support means that students are in a good place coming out of law school. In addition to an incredible skill set of oral advocacy, students have a huge network of people they know. That's a network they wouldn't have otherwise. And that network may help contribute to job offers." Lea's students have gone on to work at several firms in the Twin Cities area.
A Rewarding Accomplishment
In addition to being a weighty commitment for students, the moot court also requires dedication from coaches. Lea puts together a syllabus, organizes meetings, and during fall semester provides lectures on the substantive law involved. After students draft their briefs, the coaches provide feedback. Lea then lines up guest judges, sits in on every practice, and debriefs with students afterwards. She can do extra meetings for strategy sessions, and pre-pandemic, travelled with the team. Lea describes, "I talk students through the practical considerations and I'm the go-to coach for substantive patent law questions. Another coach is very good on procedure and standard for review for appellate practice. He provides feedback on practices as well."
Serving as coach has been a personally rewarding experience for Lea. She explains, "The IP moot court has become a phenomenal program. It's been four years of excellence. I'm really proud of the community. And I'm incredibly proud of these students, I've really seen them grow a lot. Students are already on board for next year and want to win the whole thing. They have great careers ahead of them and I'm excited to see that. This is a legacy they're building; they're gaining excellent skills and helping build IP opportunities for St. Thomas students."
Back to All News