PTO Schedules s. 101 Roundtables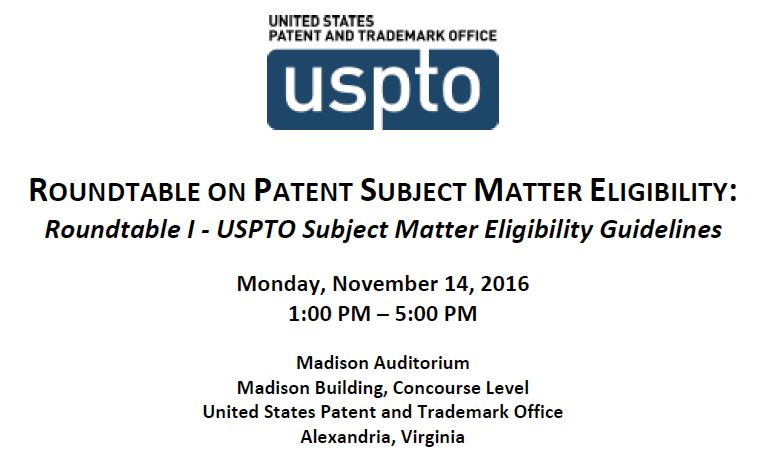 At 81 Fed. Reg. 71485, The PTO has scheduled two roundtables at the PTO to receive feedback from the IP community, particularly on the Examples that were promulgated in May. The first roundtable will be on November 14th from 1:00-5:00 PM in the Madison Auditorium. I will be doing a brief presentation along with just about everyone else who has been caught up in the patent subject matter eligibility debate/analysis, particularly in the life sciences.
The second roundtable will be from 8:00-5:00  PST on December 5th at Stanford. Remember that the Office issued at short memorandum on McRO and BASCOM decisions on November 2nd. Although this memo discussed use of the Mayo/Alice test as applied to compute related technology, there is language that should be relevant to life science inventions, such as diagnostics.
We are told that claims should be directed to "a particular solution to a problem or a particular way to achieve a desired outcome…as opposed to merely claiming the idea of a solution or outcome." The simplest diagnostic test that arises from a discovery that a natural correlation can be applied to diagnose an in vivo condition should meet this standard. It is time for the PTO to stop aping Justice Breyer's Metabolite Labs dissent –which was dictum to begin with–and change its examination guidance that explicitly bars this sort of test.

Back to All Resources