Tim Bianchi to Speak on Testing Patents in the PTAB at 2019 Midwest IP Institute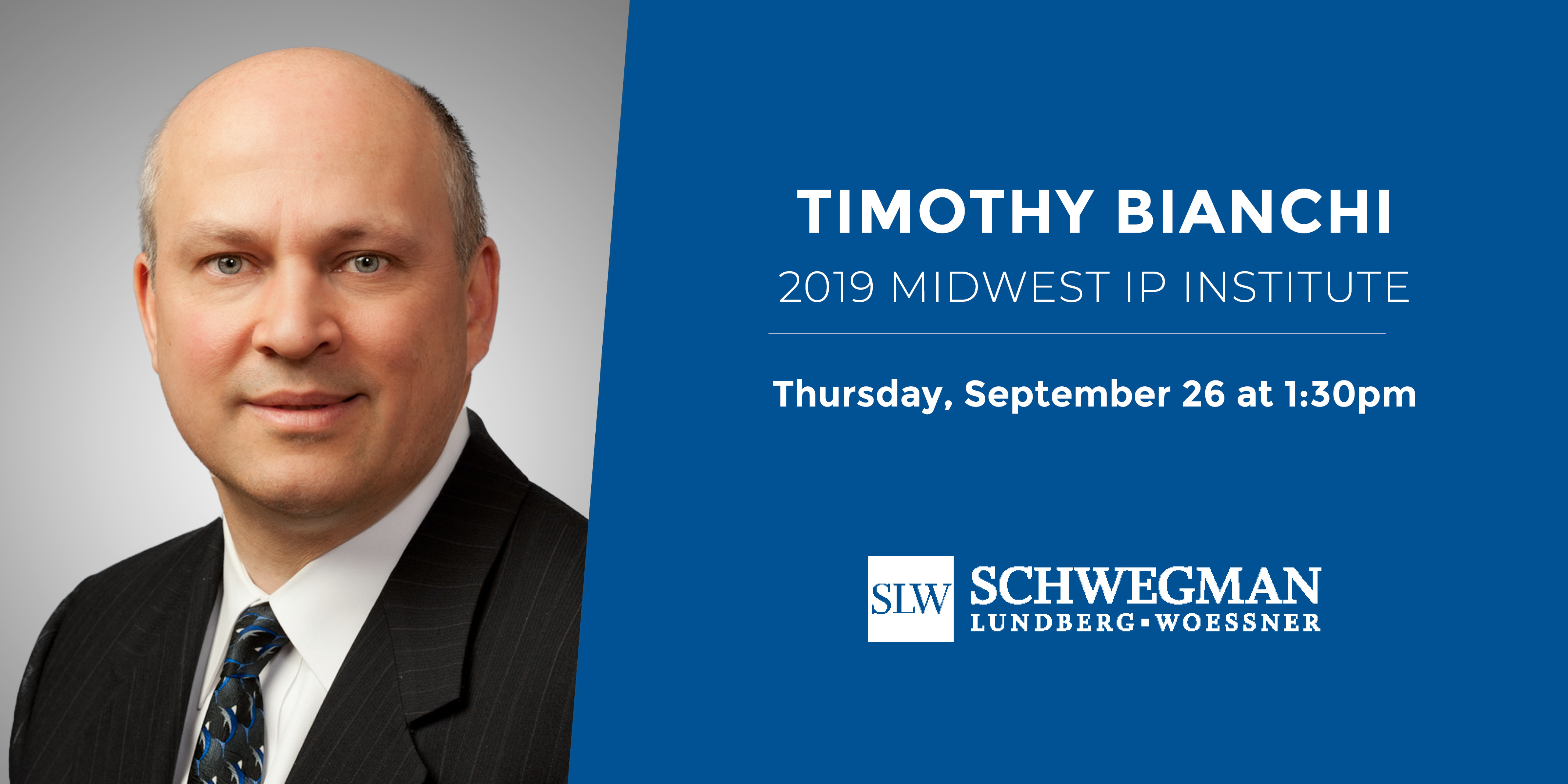 An opportunity to learn more about PTAB proceedings is coming up on September 26, when Tim Bianchi and Felicia J. Boyd present at the 2019 Midwest IP Institute in Minneapolis, Minnesota. "PTAB (the Patent Trial and Appeal Board) is a very popular venue to test patent validity for several reasons," Schwegman principal Tim Bianchi explains. The presentation, entitled "PTAB Proceedings – Top Tips to Avoid Tripping Up Before the PTAB," will examine recent PTAB decisions. It provides practical tips on such topics as claim amendments, petitions, discovery issues, appealing to the Federal Circuit, and parallel district court trials.
"The PTAB offers inter partes review (IPR), post-grant review (PGR) and covered business method review (CBMR)," Tim continues. "Each proceeding involves a highly technical bench of administrative patent law judges who are experienced in patent law and technology. Unlike district court litigation, there is no presumption of validity for the patent, and the proceeding is streamlined to focus on validity rather than infringement. But there's a catch for patent challengers, because what you do not successfully challenge can come back to bite you in the form of estoppel in any related district court litigation."
Tim Bianchi represents patent owners and petitioners in these AIA patent trial proceedings, many of which are involved in concurrent litigation. His background is in medical devices, signal processing, communication electronics, computer hardware, and software, food processing devices, and consumer products.
Felicia J. Boyd is a partner at Barnes & Thornburg. She has decades of IP litigation experience helping clients in fields such as software, medical devices, financial services, and pharmaceuticals.
The 2019 Midwest IP Institute will take place on Thursday, September 26 through Friday, September 27. Schwegman is pleased to be a sponsor. The event will be held at the Minnesota CLE Conference Center at 600 Nicollet Mall in downtown Minneapolis. To register, visit https://www.minncle.org/seminar/1028882001. Tim and Felicia's presentation will begin at 1:30 p.m. on September 26.
Back to All News